Did "Van Minogue" really happen?
Action movie god Jean-Claude Van Damme has finally confirmed that he did indeed have an affair with Kylie Minogue on the set of their notoriously awful 1994 action flop Street Fighter.
On the promo trail for his action comeback The Expendables 2, the Muscles from Brussels at first tried to play coy about the rumoured fling with the Aussie pop star when asked about it by the UK's Guardian.
"Oh ... who said that to you? I tell you what, you should ask her. She'll have a better memory," Jean-Claude responded.
"I'm 51 years old, do you know how much I was punched in the face on The Expendables 2? No, no. No. And let's just say it happened, so what? Who wants to know?"
But then came the Van-damning confession we've waited 18 years to hear.
"Sometimes you let go of stuff ... I don't know, maybe. Yes. OK. Yes, yes, yes. It happened. I was in Thailand, we had an affair. Sweet kiss, beautiful love-making," Jean-Claude revealed.
"It would be abnormal not to have had an affair, she's so beautiful, and she was there in front of me every day with a beautiful smile, simpatico, so charming, she wasn't acting like a big star. I knew Thailand very well, so I showed her my Thailand. She's a great lady."
So if he "showed her [his] Thailand", she showed him her map of ... well, we'll leave the rest to your imagination.
Check out JCVD, with Kylie at his side, in this hilarious clip from Street Fighter:
JCVD also admitted he was "f---- up" on drugs and alcohol during the '90s. He was diagnosed with bipolar, and after a failed attempt at rehab, the muscleman chipped his way back through exercise and his marriage to former bodybuilder Gladys Portugues.
Has Jean-Claude still got it? Check out his taut tummy of terror at the Madrid premiere of The Expendables 2 last week.

Jean-Claude's abs of steel.
Image: Getty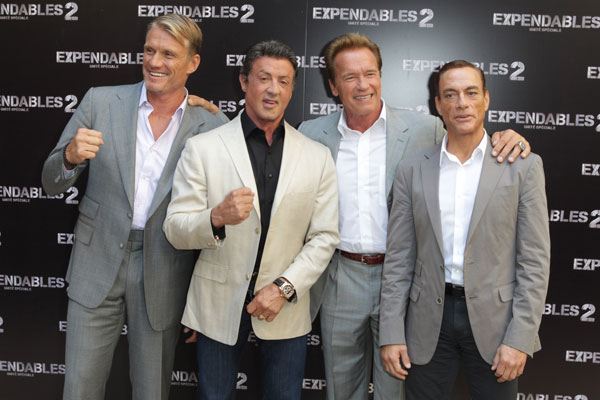 Nineties action heroes back with vengeance: Dolph Lundgren, Sylvester Stallone, Arnold Schwarzenegger and Jean-Claude Van Damme reunite.
Image: Getty

Related slideshow: Hollywood's hottest movie set hook-ups