We've got chills, they're multiplying.
Just a day after we spoke with John Travolta and Olivia Newton-John about their new Christmas album (read interview here), the Grease buddies have released a music video for their follow-up duet to 'You're The One That I Want', a Christmas ditty called 'I Think You Might Like It'.
But it's not just any old music video. In fact, 'ITYMLI' might be the cheesiest music video we've seen all year. Here's why:
There's loads of line dancing. Even John's wife Kelly Preston can be seen dancing around an airport with their kids. But why?


John's disturbing chin hair. It looks like another kind of body hair we won't name.


The totally relatable moment when John arrives in town flying his own private jet to meet ol' pal Livvy. Better get mine out from the garage!


Danny and Sandy, oops, we mean, John and Olivia, re-enact the final moment of Grease, but this time the car doesn't fly off into the clouds. That's Santa's territory!


Still, the Grease reunion is obviously a happy one, and there's a massive warm-and-fuzzies about the whole project. The album will raise money for John and Olivia's two charities, the Jett Travolta Foundation for kids with disabilities, and the Olivia Newton-John Cancer and Wellness Centre in Melbourne.
This Christmas is out now.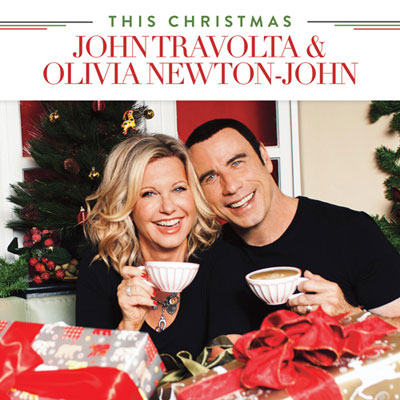 We go together: They sure do! This Christmas's amazingly kitsch album cover.

Want more festive cheese? View the most awkward Christmas songs ever recorded