Morrissey is notorious for his anti-fur and pro-vegetarian political comments and statements. This time Beyoncé is on the firing line over her fashion ethics.
The animal rights activist, avid vegetarian and former lead singer of The Smiths made a comment about the star's choice of handbags leading to the extinction of the rhinoceros. He then sang The Smiths classic 'Meat is Murder'. Watch his comment in the video above.
The reference came from Beyoncé commissioning a pair of sneakers that PETA says were made from endangered animals.
"These custom-made kicks come with a high price and it's paid by the various animals who were beaten and skinned alive or cruelly farmed and killed," a statement by PETA reads.
"Although most people aren't as familiar with the types of animals (snakes, stingrays, crocodiles, and ostriches) killed for this single pair of sneakers as they are with the cats and dogs we share our homes with, these animals are highly sensitive living beings who try hard to avoid capture and suffer enormously when trapped, netted, speared, and skinned alive."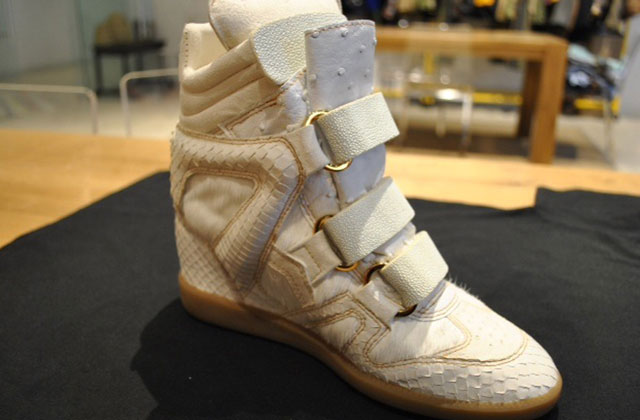 The controversial custom-made 'King Bey' kicks.
Image credit: Splash/PMKCustoms.com

"We hope that Beyoncé will choose to wear more clothes from her own clothing line, which features faux fur, and that one day, she'll go completely cruelty-free," PETA said in a previous statement.
"She can always choose the cruelty-free and green fashion favoured by compassionate, chic celebrities such as Natalie Portman and Anne Hathaway and designers such as award-winning fashion queen Stella McCartney.
Beyoncé isn't the only celeb to come under fire by Morrissey. In the week leading up to the Staples Centre performance, the 53-year-old cancelled his appearance on Jimmy Kimmel because the cast of duck hunting reality TV series Duck Dynasty would be in attendance.
"As far as my reputation is concerned, I can't take the risk of being on a show alongside people who, in effect, amount to animal serial killers," Morrissey told The Hollywood Reporter.
Jimmy hit back on Twitter with a call out to Morrissey to make his statements on his show instead of cancelling.
"Note to Morrissey — if you have more dumb statements to make, I invite you to make them where I do, on my show ."
The 'Queen is Dead' singer also criticised Sir Paul McCartney for his "love" of the fur-adorned royal family.
"I was amused to hear that [Paul] was very angry that Staples had said yes to me but no to him, when really, he should be happy for any victory on behalf of the animals," he told the Hollywood Reporter.
"I know he works tirelessly for the People for the Ethical Treatment of Animals [PETA], but he also loves the British royals, whose treatment of animals is abysmal."
"The Queen herself wears enough fur to blanket most of Russia. He also once sang 'Give Ireland back to the Irish,' which was directed at the Queen. Well, she refused, and she still refuses, yet Sir Paul gives her the thumbs up!"
"If he cared passionately about animals, he'd return his knighthood.
"He doesn't need the Queen's approval. He's given more pleasure to people worldwide than she could ever dream of," he added.
The singer also caused controversy when he told New Zealand television show Nightline that Kate Middleton "feels no shame" over the death of nurse Jacintha Saldanha in December. Watch this video below.
Morrissey's US tour continues to Seattle on Wednesday and will finish up in San Francisco on April 30.
Related slideshow: On stage shockers: