Delta Goodrem had thousands of revellers sitting on top of the world at the official 2013 Mardi Gras party at Fox Studios in the early hours of Sunday morning.
While some fans going into the party complained that Delta would be a let-down compared to Kylie Minogue's homecoming last year, the 28-year-old pulled out every stop to prove critics wrong with a show-stopping, high-energy, glitter-exploding dance medley of her hits.
Trying the Kylie and Lady Gaga move of surrounding herself by near-naked male dancers, Delta embraced the spirit of the Sydney LGBTI community's night of nights by showing off her stunning body in some of her sexiest outfits ever.
TheFIX was there to capture Delta's Mardi Gras moment — watch our fabulously shaky-cam footage above!
Landing on stage in a giant birdcage, Delta bared her midriff in a sparkly bra-top with giant angel wings, looking totally the part of a Victoria's Secret Angel, don't cha think?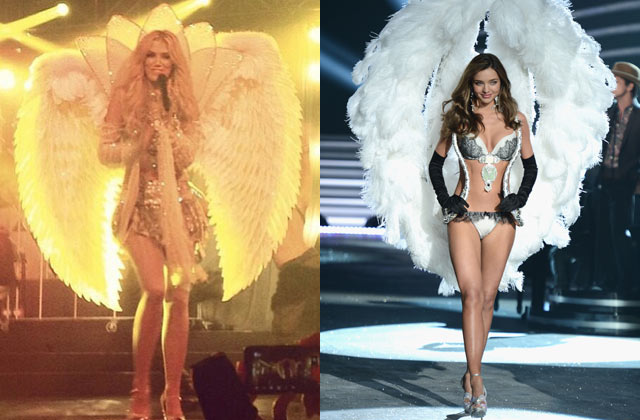 Delta and Miranda: Two peas in a fluffy-winged pod! Images: Instagram/bmaric/Getty.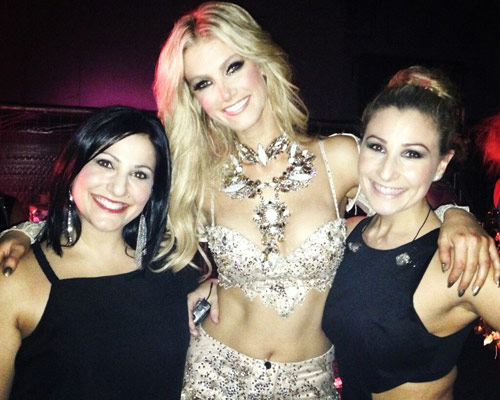 Delta with '90s Aussie pop duo Sister2Sister, Sharon and Christine Muscat at the party, Images: Twitter/Delta Goodrem.

It wouldn't be Mardi Gras without a costume change, of course. Delta swapped the angelic look for a gypsy-style number with a glittery bra and a sheer, leg-revealing skirt.
"I hope everyone enjoyed the performance ... HUGE thank you to everyone!!" Delta tweeted after her show, thanking her choreographers, dancers, and hair and make-up artists.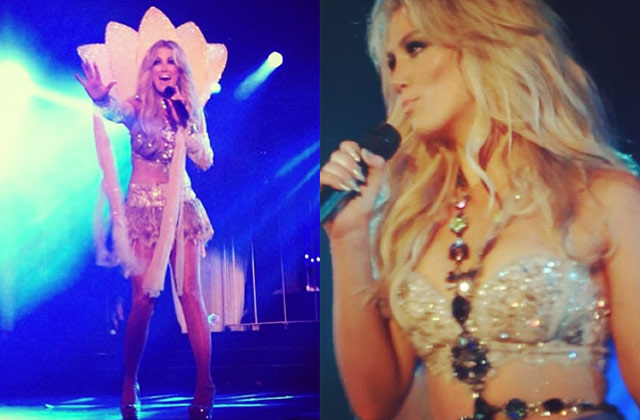 Delta's racy Mardi Gras outfits. Images: Instagram/deltagoodremfans/chrisando.

Delta's dance remix medley included 'Sitting On Top of the World', 'Lost Without You', 'Born To Try', 'Believe Again' and a rousing mash-up of 'Unpredictable' and Madonna's 'Hung Up'.
Other performers at Mardigrasland included The Presets, Heather Small from M People, Zoe Badwi, 2012 Eurovision winner Loreen, and Jake Shears from the Scissor Sisters (doing a DJ set).
Let's hope Delta brings some of that Mardi Gras fabulousness onto the upcoming season of The Voice.
Keep the Mardi Gras spirit alive in our new slideshow of drag queen celebrity lookalikes:

Or check out this video from 2012 of Miranda Kerr's Victoria's Secret wings being put to good use: