Justin Bieber upset thousands of his young fans by arriving two hours late to his opening night Believe concert at London's O2 Arena on Monday night.
The Beliebers are a forgiving bunch, but as you'll see in the video above, they voiced their anger by booing their teen idol. More like Justin Boo-ber!
According to the Daily Mail, hundreds of parents took their children home in protest at the singer arriving so late. Justin's show started at 8.30pm, and he reportedly only came on at 10.30pm.
Parents had been told by the O2 Arena that the show would end around 10.30pm.
"It's disgraceful, so many children were distressed and left heartbroken they had to leave the show," one audience member told the Daily Mail.
"Many had been looking forward to seeing Justin for weeks."
One mother with a teenage daughter told the Huffington Post that the lack of updates during the wait was "disgusting".
The crowd were forced to sit through Justin's supporting acts Carly Rae Jepsen, Jaden Smith and Aussie Cody Simpson, and listen to Michael Jackson songs while waiting.
"We were all fans, and now we hate him," another parent told ITV News.
When he did arrive, Justin cut his show short because of the late start time. He later took to Twitter with a series of posts apologising to fans and defending himself against the backlash.
"Last night I was scheduled after three opening acts to go on stage at 9.35, not 8.30 but because of some technical issues I got on at 10.10 … so," he wrote.
"I was 40 min [sic] late to stage. There is no excuse for that and I apologise for anyone we upset. However, it was great show and I'm proud of that."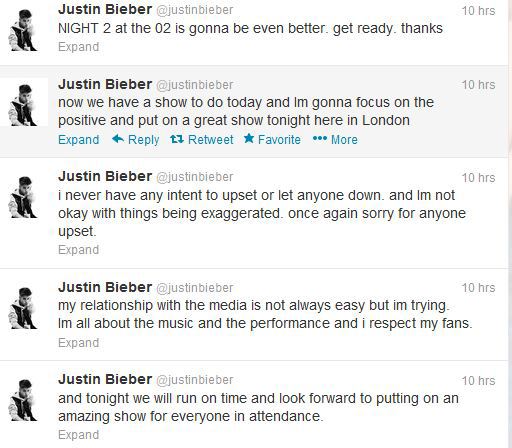 Justin tweeted these responses to more than 35 million Twitter followers. Image: Twitter.

The set times in Justin's upcoming shows have been adjusted as a result.
Angry Beliebers can at least take solace in knowing that he had a terrible birthday in London late last week. More details below: