Carly Rae Jepsen has pulled the plug on a scheduled appearance at the Boy Scouts of America National Jamboree in West Virginia this July due to the organisation's intolerance of gay scouts and parents.
"As an artist who believes in equality for all people, I will not be participating in the Boy Scouts of America Jamboree this summer," Carly tweeted.
"I always have and will continue to support the LGBT community on a global level and stay informed on the ever-changing landscape in the ongoing battle for gay rights in this country and across the globe."
Carly joins pop-rock act Train as the second major act to pull out from the event, following a change.org petition set up by gay Eagle Scout Derek Nance, and supported by the Gay and Lesbian Alliance Against Defamation. As it stands, Derek's petition has over 67, 000 signatures of support.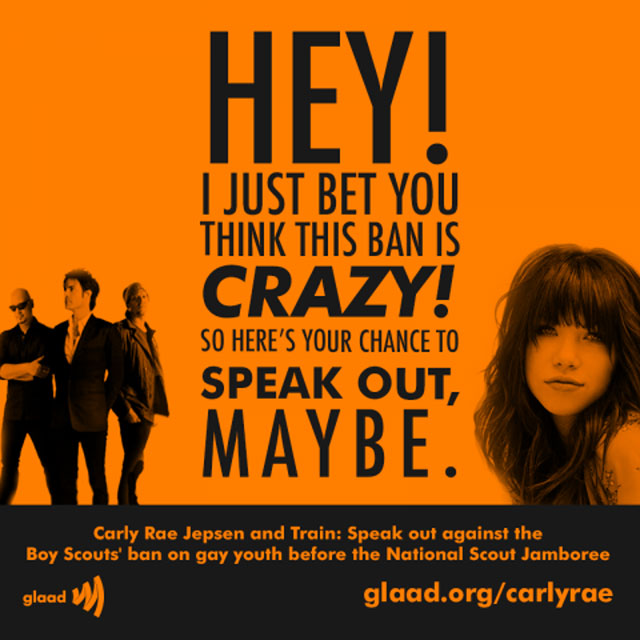 A poster by GLAAD (Gay and Lesbian Alliance Against Defamation) urging the artists to boycott the Jamboree.Image: GLAAD.
Both Carly and Train have previously showed public support for the gay community, so it comes as no surprise that they've rallied behind the cause.
"When we booked this show for the Boy Scouts of America, we were not aware of any policy barring openly gay people from participation within the organization," Train wrote in an official statement.
"Train strongly opposes any kind of policy that questions the equality of any American citizen. We have always seen the BSA as a great and noble organisation. We look forward to participating in the Jamboree this summer, as long as they make the right decision before then."
Watch Carly Rae's new clip 'Tonight I'm Getting Over You' below:
From internet sensation to pop star