Seems like every time we hear about Noah Cyrus she's doing something totally innapropriate for her age.
Whether it's dressing like a dominatrix for Halloween, skipping around a pole-dancing pole or performing the totally un-PG hits 'Smack That' and 'Tik Tok', we suspect this nine-year-old could easily notch up more scandals than her big sis by the time she hits her teens.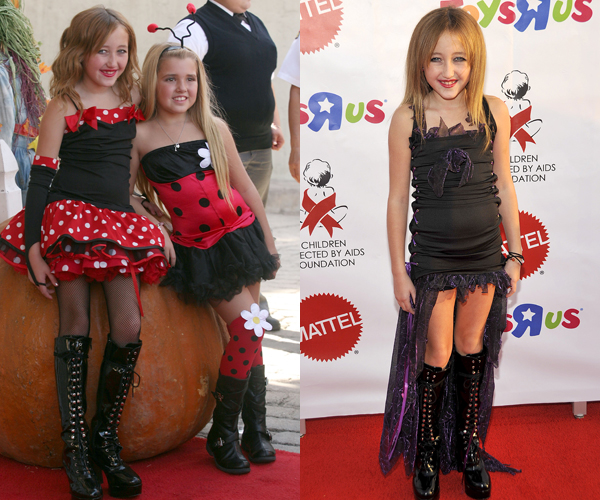 Noah at two Halloween parties last year.
The latest news that's got us scratching our heads and wondering, yet again, '
what were her parents thinking
?' ...little Noah is set to become a lingerie model.
She'll be teaming up with her pint-sized best friend Emily Grace to launch a children's lingerie collection for 'Ohh! La, La! Couture'.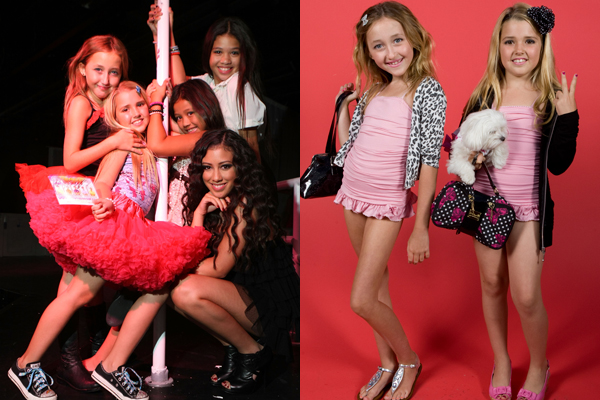 Left: Pole dancing with her little friends last year. Right: With her best friend Emily Grace.
The company's website describes The Emily Grace Collection as having a "trendy, sweet, yet edgy feel, reminiscent of Emily's true personality. She is collaborating with Ooh! La, La! Couture designers to create versatile styles that can be worn with sweet ballerina slippers, funky sneakers or paired with lace stockings and boots for more of a rock and roll look. Emily's collection will appeal not just to little girls - the line also has an exclusive Teen Collection available to a size 14."
Here's a clip of this poor Emily Grace kid dressed up in a pair of fishnets and chatting about her underwear line with Miley and Noah...
We weep for the future.