Madonna has spoken out against homophobia after a recent spate of teenage suicides in America linked to bullying.
In an interview with Ellen Degeneres, the pop queen – a gay icon herself - drew parallels between the harassment of gays and Hitler's extermination of the Jews.
"The concept that we are torturing teenagers because they are gay – it's unfathomable," the 52-year-old said.
"I'm incredibly disturbed and saddened by the overwhelming number of teen suicides that have been reported lately because of bullying. It's like lynching black people or Hitler exterminating Jews.
"Sorry if I'm going on a rampage right now but this is America. The land of the free and the home of the brave."
Speaking about her own childhood, Madonna said she understood what the victims of bullying go through.
"I can totally relate to the idea of feeling isolated and alienated," she said.
"I was incredibly lonely as a child, as a teenager. I have to say I never felt like I fitted in at school. I wasn't a jock. I wasn't an intellectual. There was no group that I felt a part of. I just felt like a weirdo."
Madonna isn't the only celebrity to speak out against gay bullying. Stars in the States and Australia are lending their support to anti-homophobia campaigns in response to the recent suicides.
Check out the blog This is Oz to see how the stars are supporting gay teens in Australia.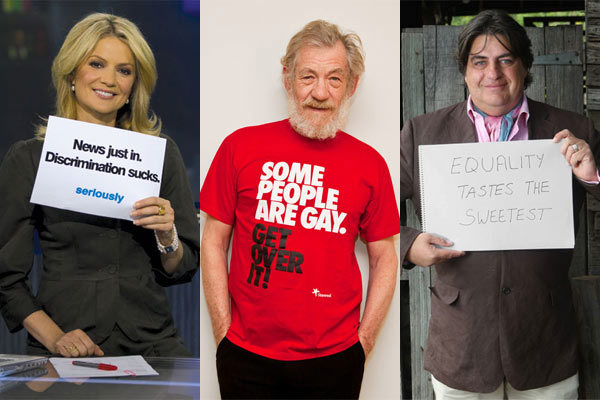 Sandra Sully, Sir Ian McKellan and Matt Preston take a stand. (More pics: This is Oz)
If you've experienced homophobic bullying or violence you can talk to someone from the
Lesbian and Gay Anti-Violence Project
at ACON.