You know what they say: once a cheater, always a cheater.
And Jesse James has proved it.
The man who reportedly cheated on ex-wife Sandra Bullock with 11 different women, has now been branded a 'cheat' by his ex-fiance, Kat Von D.
The pair recently split up (for a second time), and yesterday tattoo-artist Kat took to Twitter to dish the dirt on her love rat ex.
In response to a fan's question, the L.A. Ink star wrote: 'No, my next book will not be about my cheating ex,' adding: 'There are way too many positive and inspiring things to write about instead.'
Last week an anonymous woman came forward on U.S. website www.cheaterville.com claiming she had dated with 42-year-old Jesse, who is the CEO of West Coast Choppers. The woman claimed she and Jesse had seen each other while he and Kat were on a 'break.'
'Why don't you be a man and tell everyone why Kat dumped you this time?' she wrote on the site.
'Is it because you lied to her and said that you didn't see anyone while you two were 'on a break'. How did she find out about me Jesse? I know you didn't tell her, and I didn't say anything because I didn't even know that you two got back together until the entire world found out.'
Meow!
We reckon Jesse deserves a clawing, though...from one of Kat's tattooing needles, perhaps?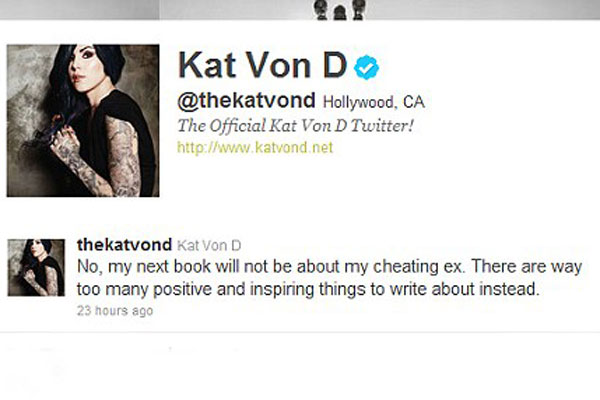 The Twitter post that revealed all