LeAnn Rimes looks as though she was totally freaking out in raptures over her courtside hot dog at an NBA game on the weekend, don't you think?
We, for one, are totally convinced this this isn't just a conceited effort to fight off all those 'too skinny' jabs at all.
All teasing aside, though, it is awesome to see the LeAnn chowing down a 'dog, especially seeing as we're hearing some disturbing rumours about her not wanting to get preggers because her hubby, Eddie Cibrian, won't want to have sex with her if she does.
No, that's not a joke.
In Touch magazine claims: 'LeAnn is afraid that when she gets pregnant, Eddie will be turned off by her bloated body."
And according to a source:
"Eddie loves petite girls – the thinner the better.
"She [LeAnne] fears that Eddie will stray or stop having sex with her if she gains any baby weight"…which, as we all know, is kind of a given if you're going to grow a baby in your stomach."
The mag also claims that Eddie stopped sleeping with his ex, model Brandi Glanville, when she was expecting their two kids together, and that LeAnn is searching for a surrogate mother.
This is all kids of messed up, so here's hoping it's all crock.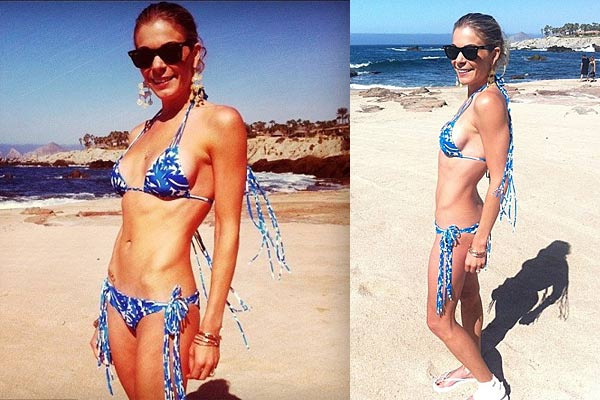 LeAnn says she's just muscly