In what could be a career-defining moment for German model Micaela Schaefer, the former Germany's Next Top Model contestant upstaged Men in Black 3 stars Will Smith and Josh Brolin at the film's red carpet premiere in Berlin on Monday.
Draped in reels of VHS tape (youngsters, ask your older sibling) precariously held together by a belt, the 29-year-old glamazon burst out from all sides, seeming to have forgotten her bra (but not her wristwatch; it's all about the priorities).
As you'll see in the pics below, she came dangerously close to a wardrobe malfunction as the wind threatened to carry away the tape in what TMZ calls "some garbage bag strips attached to other garbage bag strips".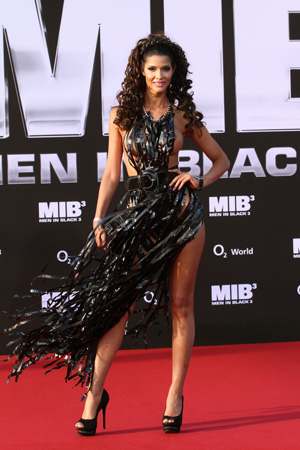 The remains of a video shop.
Image: Getty.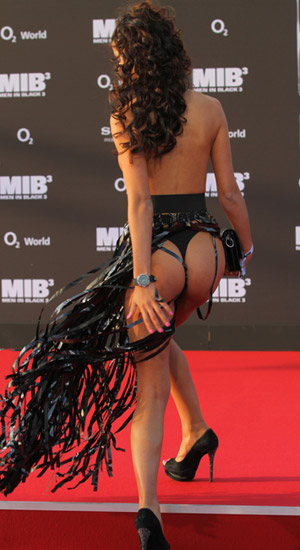 Rewind for the behind!
Image: Getty.
Micaela is used to showing skin — she's a regular on the men's mag circuit in Germany, and when she's not wearing a bikini, she's wearing nothing at all.
In stark contrast was ex-Pussycat Doll and MIB3 star Nicole Scherzinger, who went for an elegant purple gown alongside her dapper castmates (and director Barry Sonenfeld, far right).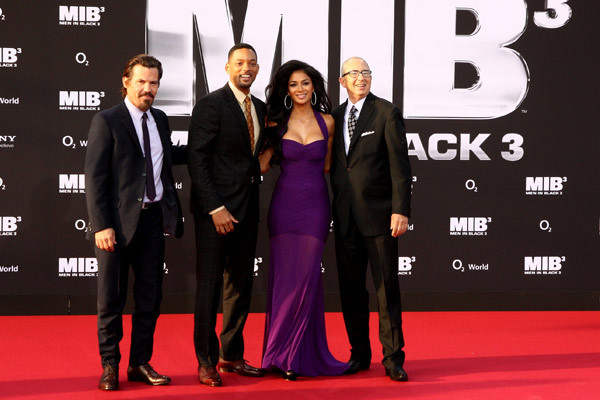 Men in black, woman in purple.
Image: Getty.

Related gallery: Worst red carpet dresses of all time

What do you think of the VHS dress? Fabulous or hideous?