Michael Jackson's 14-year-old daughter Paris is at the centre of an ugly custody dispute following her grandmother and legal guardian Katherine's temporary "disappearance" earlier this week.
While the 82-year-old Jackson matriarch was found recovering from ill heath in Arizona, dramatic scenes unfolded at her California house when Michael's siblings Janet, Jermaine and Randy drove into the grounds without permission, and fought with Katherine's grandchildren before police intervened (no-one was arrested).
In footage obtained by TMZ (see above), Janet and her siblings tried to force Michael's children into a car in an attempt to remove them from Katherine's custody.
Janet allegedly tried to grab Paris' mobile phone before giving her a slap and shouting, "You're a spoiled little b----."
Paris is said to have slapped her aunt back and said, "This is our house. Not the Jackson family house. Get the f--- out!"
TMZ reported that Randy and Jermaine were so aggressive that cousin Trent put Randy in a headlock, and punched Jermaine in the mouth.
Katherine Jackson and her lawyers released a statement about the incident claiming that an unnamed Jackson had been trying to "kidnap" her for at least three years.
"Following the incident, it was learned that one of the family members who was part of the ambush admitted that a plan has been in place for the last three years to remove Katherine Jackson from her home and her beloved grandchildren," the statement read.
Radar Online reported that Janet and her brothers tried to take Paris' phone so she would stop tweeting private information about the family dispute.
"The same doctor that testified on behalf of [Michael's doctor convicted of involuntary manslaughter] Dr [Conrad] Murray saying my father was a drug addict (a lie) is caring for my grandmother ... just saying," Paris tweeted on Sunday.
To make it more complicated, the kids' 34-year-old cousin Tito Joe "TJ" Jackson Jr is attempting to become the temporary legal guardian of Michael's children, TMZ reports. Paris, Prince and Blanket apparently want him as a guardian while their grandmother is allegedly "kidnapped" by Janet and the other Jackson siblings.
"I know it's completely unfair for them to do this to you and your brothers. We will keep trying. I love you," TJ tweeted to Paris yesterday.
Tito happens to be Kim Kardashian's first love — check out this prom picture.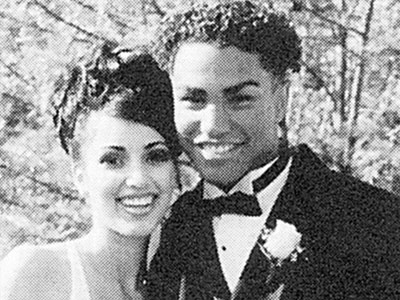 Kim Kardashian and TJ in happier times.
"Nine days and counting ... so help me god, I will make whoever did this pay," Paris tweeted overnight.
Janet, Randy and Jermaine have hired a lawyer to try and overthrow the executors of their late brother's estate.
"The Jackson siblings are discussing taking legal action against the executors of the estate and to become Katherine Jackson's conservator. Janet, Jermaine and Randy feel that they have been left out of all decision making when it comes to Michael, and they want to financially benefit from his estate as well. Janet is also discussing the possibility of petitioning to become Michael's kid's temporary guardian," a source told Radar Online.
Brother Tito, TJ's father, has backed out of the plot against the Michael Jackson Estate.
It's messy business indeed.
Related slideshow: Nastiest celebrity family feuds