Now that Kristen Stewart is back in the public eye after weathering the storm of her cheating scandal like a good hermit, the Twilight star is already the subject of fresh rumours about her love life.
James Franco is reportedly "smitten" with the 22-year-old, seen chatting with her flirtatiously at the Toronto Film Festival last week.
According to a Radar Online source, the pair had a 20-minute natter at the Intercontinental Hotel.
"There was a lot of flirting, and Kristen was overjoyed by the attention she was getting from James, who was gushing over her, saying what a great actress he thinks she is and was full of praise for her latest movie, On the Road," the source claimed.
"She seemed at ease in his company, and he was certainly making her laugh. She was wearing a huge grin on her face."
Kristen smiling is an event in and of itself, but James apparently asking her out on a date is the icing on the cake.
"At the end of their chance meeting, James took Kristen's number and asked her out for dinner," the source said.
"Kristen initially said no, but is mulling over the idea. She knows she has to move on now following her break-up with Rob."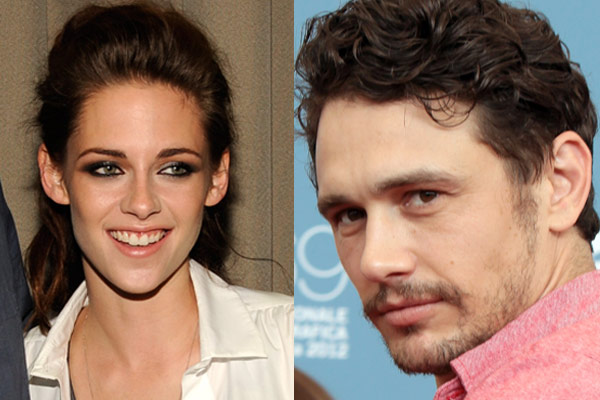 Kristen breaks into her annual smile ... James Franco could be the reason why.
Images: Getty
Franco fans will remember the
127 Hours
Oscar nominee lavishing Kristen with praise, calling her "beautiful" and "intelligent" in a blog he wrote on Huffington Post in June titled "Kristen Stewart the Queen".
"Stewart has braved more scrutiny of her private life than most presidents. She has taken big career risks by doing films like Welcome to the Rileys, The Runaways and On the Road (nudity, I hear)," James wrote.
"She has worked her ass off. Whatever Snow White may be, Kristen is a warrior queen. Give her the crown."
Way to woo a girl, James!
But Kristen may not be ready for another scruffy-haired indie-movie-loving boyfriend just yet. After telling the press that her and Robert Pattinson will be "totally fine" promoting The Twilight Saga: Breaking Dawn Part 2 together in November, gossipmongers are already claiming they're getting back together.
UK gossip site Laineygossip.com reports that "it was communicated to people during TIFF [Toronto International Film Festival] that they are back together, but they're worried about how it might affect his career, like whether or not there will be some kind of crazy backlash".
Anyhow, Kristen popped up for an On the Road photo call looking relaxed and giving toothy smiles that appear less icy than the faces she pulled at the film's premiere last week.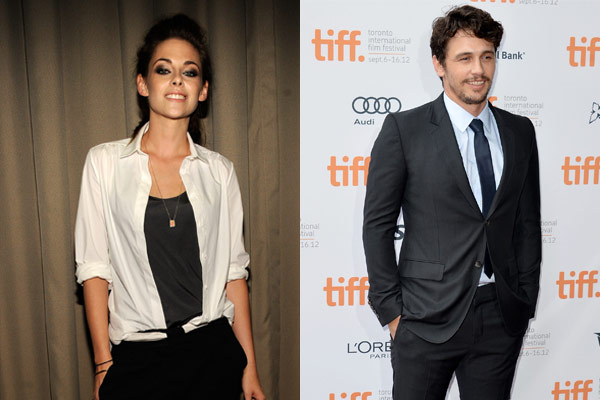 Kristen's pearly whites come out; James promotes his new Selena Gomez flick, Spring Breakers.
Images: Getty

Do you have a celebrity story that should be published on TheFIX? Taken a sneaky pic of a star that you want to share with the world? Send your photos, tip-offs and gossip to spotted@ninemsn.com.au