Ashton Kutcher and girlfriend Mila Kunis slipped into Sydney yesterday for a low-key romantic break — that is, until their celebrity friends rocked up.
The Hollywood couple were photographed having dinner at Bronte eatery Three Blue Ducks with Mel B and her husband Stephen Belafonte, and Brian McFadden and new wife Vogue.
Aussie celebrity Ruby Rose was also there, obviously chuffed to be in such star-studded company.
"I'm having dinner with Mila Kunis and Ashton Kutcher … And now missed @elliegoulding ... I'll have to see her in London!" Ruby tweeted, before posting a number of photos with her famous friends.

Ashton, Ruby, Airbnb co-founder Brian Chesky and Mila.
Image: Ruby Rose/Twitter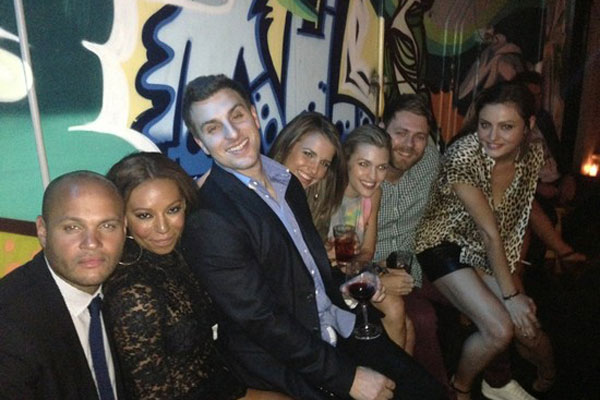 One big happy celebrity family.
Image: Ruby Rose/Twitter

Brian also bragged about his dinner guests on Twitter: "Having dinner with @aplusk and @mila_kuniss. As you do".
Ashton, who is one of the world's most followed celebrities on Twitter, remained suspiciously quiet, his most recent post being on Wednesday.
Earlier in the day, Ashton and Mila visited the Wild Life Sydney Zoo to meet the koalas.
"They never requested anything and just enjoyed a typical experience," a zoo spokeswoman told Sydney Morning Herald.
"It was just the two of them and while they didn't want any photos taken, they were very pleasant and friendly."
No VIP treatment though — apparently they were paying customers like the rest of us.
In other Ashton news, the 34-year-old Two and a Half Men star and estranged wife Demi Moore have reportedly taken no legal steps towards divorce, despite separating a year ago.

Have you seen Ashton and Mila out and about? Taken a sneaky pic? Send your tip-offs to us at
spotted@ninemsn.com.au
.