Keira Knightley has complained about her breasts being digitally altered for promotional movie shots.
The svelte 27-year-old actress insisted to Allure magazine: "they always pencil in my boobs."
One digital boob job in particular pushed the envelope a little too far for Keira, resulting in "really, really droopy" breasts.
Back in 2004, promotional posters for King Arthur featured a doctored version of Keira's modest bust. The enhanced regions are obvious – but for Keira, it was a case of "too much of a good thing".
"It's my face on that poster," she explained.
"I thought, 'Well, if you're going to make me fantasy breasts, at least make perky breasts.'"
Keira, who is currently doing the media rounds to promote her new movie Anna Karenina, isn't afraid of showing off a little skin.
As part of the Allure photo spread, Keira goes topless, covering her more sensitive regions with a small jacket.
"I don't mind exposing my t--s because they're so small," she said. "People really aren't that interested!"
We think some guys out there might disagree with you, Keira.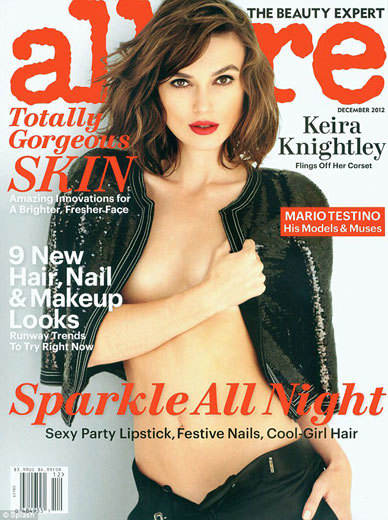 Daring to bare: Keira on the cover of Allure
More stars before and after Photoshop in our gallery: