Despite her new album being called Unapologetic, Rihanna made a desperate apology to the 150 journalists on board her 777 jet for spending minimal time with them on what's been dubbed "plane-a-geddon" and "the 666 tour".
The seven-day, seven-country world tour to promote the 24-year-old's seventh album descended into a blur of sleep deprivation, hangovers and hours of waiting around for the singer's infrequent appearances.
It got to the point where a cheeky flyer circulated among the journalists with the words "Missing: Robyn Rihanna Fenty" (the star's real name).
The 'Diamonds' songstress heard about the incident and popped out of her first-class cabin as the plane touched down in New York City on the final day of the tour (which includes a live show and fan Q & A).
"Guess what, we made it! This has been an experience that I will never ever forget. I barely slept. My sleeping was all done on this plane," she told reporters.
"I want to thank everyone for making this trip the s---. I want to see the naked Australian!"
"I know you guys got barely any dirt. But I had to be good. I still sound like s---. It's impossible to spend time with everybody, and I'm sorry I didn't. But this was excellent and I would definitely do it again."
TheFIX's journalist, MC/DJ Fingertips was on the flight.
"Rihanna came out literally three minutes before landing, but I couldn't even see her," she told us. "She only went to one section of the plane to apologise."
RiRi added that she'd spend more time with the fans, and the media, on her next 777-style promo trip.
"I had to preserve my health. Normally, I'd be back here popping bottles with y'all ... I had to preserve my voice," she said.
"I was worried about my body more than partying on the plane, so I had to just sleep whenever I could. I hope you guys had as much fun as I did."
TheFIX's MC/DJ Fingertips was on the flight and gave her version of events below.
"Get me outta here!" Day seven of the "Rihanna Apocalypse"
OK. I can't pretend anymore. I am in a world of pain. This tour is killing me. And everyone else on it. Day seven on the 777 tour and the #RihannaPlane150, as we've been affectionately dubbed on Twitter, are dropping like flies.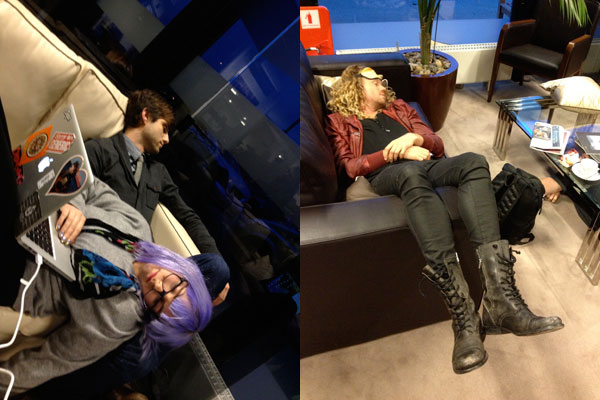 The #RihannaPlane150 during a five-hour wait at London's Stanstead airport. That's me with the purple hair, and to the right, Aussie Rihanna streaker Timothy Dormer.

It has been 51 hours since my last nap, my head feels like it has a metal clamp on it, we haven't really seen any of the countries we've travelled to beyond darkened music venues and hotels, of which the one we stayed in last night just charged me $200 to do a few lousy pieces of washing, dead serious. I am on some hardcore antibiotics after an emergency trip to a foreign doctor and I would seriously contemplate selling my first born child for something green to eat right now.
"Are we going to survive this?" questions French Canadian writer Vanessa Guimond as a grown man next to her, Portuguese radio host Wilson Honrado, reveals that he cried while on the phone to his boss this morning, begging to come home.
But, whatever. We know what we signed up for. Seven countries in seven days is more than enough to send anyone a little cray-cray. We're just tired, cranky and hangry (hungry + angry).
That should not detract from the fact that show six of the 777 tour (renamed by some as "the 666 tour") in London was pretty damn dope. The Forum in Camden played host to a packed crowd of over 2500 Ri-hungry fiends and the singer lapped up every moment, pulling out her most enthusiastic set yet.
Yes, we've heard this exact set five times, yes we've witnessed Rihanna's signature "crotch-slap" on enough occasions to make your grandmother blush and yes, we are generally teed off about everything but none of that can detract from the fact that Rihanna's songs are killer, the band are amazing and despite the overpowering presence of backing vocals, the girl can freaking sing ... which she proves in the acoustic numbers pulled out mid-set.
Kylie Minogue was spotted enjoying the show last night, as was UK pop star Pixie Lott. We're hoping Jay-Z shows up at the NY show. If he doesn't, there is no telling what the combined disgruntled powers of the #RihannaPlane150 could do. Gulp.
If there is another positive to be gained from this insane experience, it's the bonds formed between the world's media. There is a camaraderie between us that can only exist after sharing these good, bad and the ugly-as-hell experiences and completely losing our minds together.
Seven days has felt more like seven years but I am sure we'll miss it once it's all over.
In pics: Rihanna's most shocking scandals

Rihanna's new album Unapologetic is out now. Click here to buy on iTunes.