As part of a provocative photo shoot and interview with men's magazine GQ, Rihanna has revealed her submissive side when it comes to love and relationships.
"I have to be in control in every other aspect of my life, so I feel like in a relationship, I wanted to be able to take a step back and have somebody else take the lead," the 24-year-old star confessed.
This reportedly extends to the bedroom too, she explains.
"I like to feel like a woman," she reveals. "I could absolutely be dominant, but in general, I'd rather... How do I say this in, like, a non-X rated version?"
Given Rihanna's violent relationship with ex Chris Brown, we'd be worried things might go too far. Thankfully, even RiRi knows her limits.
"Love makes you go places you probably wouldn't ever go, had it not been for love. But I think everybody still has their limits," she tells GQ.
Rihanna's never shy when it comes to showing off her body. The accompanying photo shoot also gives readers a raunchy look at the star's impressive collection of ink, including the famous "underboob" tattoo of the Egyptian goddess Isis.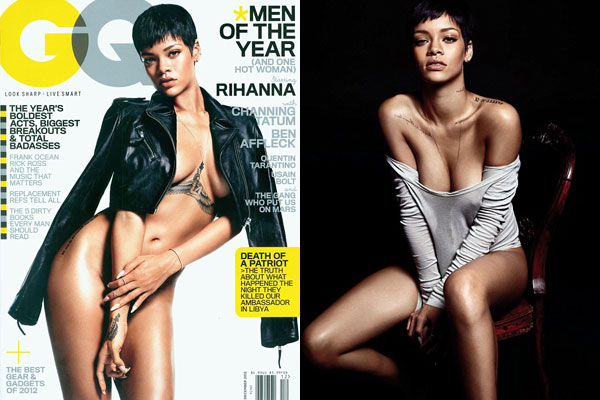 Rihanna's raunchy shoot in the U.S. GQ magazine.