Demi Moore's reported romance with 26-year-old art dealer Vito Schnabel has proved to be short-lived.
The 50-year-old actress was "dumped" by her younger man after attending — and partying up a storm — at the star-studded Miami Art Basel fair last week.
According to a New York Post source, Vito was none too pleased with Demi crashing the event and "distracting" him while he was trying to attract business.
"Vito has worked very hard to be taken seriously in the art business, and doesn't want to be seen as somebody who dates celebrities," the source revealed.
"He hated having photographers follow him around after word got out about him and Demi."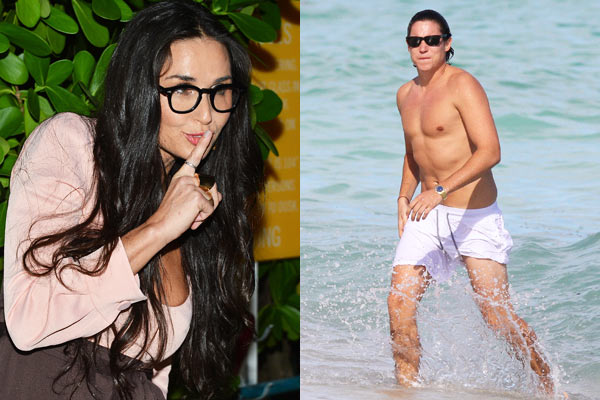 Demi at a party last Friday; Her rumoured ex Vito in Miami last week. Images: Getty/Splash
Demi and Vito had never confirmed that they were dating, after meeting at
Naomi Campbell
's birthday party in India last month.
The not-quite-couple kept separate at a party on Wednesday night — the same party in which Demi was seen dancing wildly, pulling funny faces, eating her own hair, cuddling a kitten, and hanging with pals Lenny Kravitz and Stacey Kiebler. See the video below for more.
Demi was spotted partying on Saturday at numerous nightclubs in the early hours of the morning.
The star's daughters, Rumer, Tallulah and Scout, are reportedly concerned about their mother's hard-partying ways.
"[The girls] are mortified by their mother at the moment," a Radar Online source said.
"They are becoming ever increasingly concerned about her bizarre and outlandish behavior. Demi just seems absolutely desperate for attention and they fear that she isn't in a good place mentally right now."
Apparently the girls are concerned that they might need to check their mum into rehab again. The Margin Call actress sought treatment earlier in the year for alleged substance abuse and eating disorder issues.