Just days after Anne Hathaway's disastrous wardrobe malfunction and her defiant response to the incident on live TV, two more celebrity glamazons have suffered a similar fate.
Country singer LeAnn Rimes popped out to a Hollywood party last night, and so did her left nipple.
Luckily, the 30-year-old, who has recently been in rehab for "anxiety and stress", had her husband Eddie Cibrian to cosy up to between the nip slip and her on-stage performance.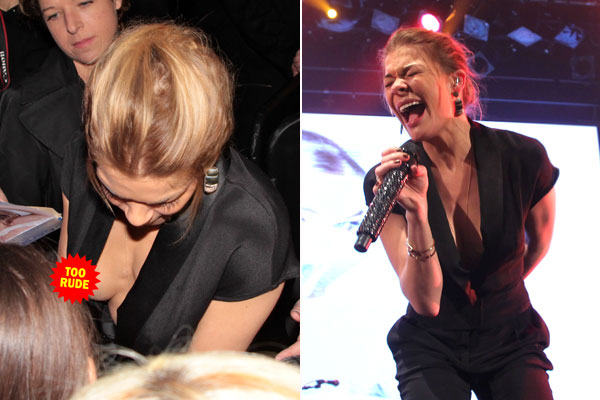 LeAnn signs an autograph in her breast handwriting; LeAnn put on a great show! Images: Splash

Meanwhile,
Elizabeth Reaser
, who plays Cullen family matriarch Esme, aka
Robert Pattinson
's mum in the
Twilight
films, unknowingly exposed herself at a media event in Hong Kong.
Wearing a teeny-tiny lace skirt, the 37-year-old found herself in what will hereby known as "chucking an Anne Flashaway". Or "Anne Hath-no-underwear".
The latest epidemic of wardrobe malfunctions raises the controversial question: Why not just wear undies?
The mystery of the absent panties can be easily solved with a g-string, or perhaps the old-school solution of a modesty leaf. Problems solved!
If one must go bereft of knickers, the simple "knees-together" trick is essential when exiting a vehicle. Walking like a Barbie could also help on the red carpet.
The no-bra issue is a trickier one. Double-sided tape is unreliable, invisible bras can look tacky. Strapless bras are a nightmare with the pulling-up-all-the-time routine. But gaffer tape is great!
That still doesn't excuse paparazzi leering outside limos salivating over the prospects of an upskirt shot, or peeping too closely at daring red-carpet choices. Then again, we're all human ... or something like that.

Have you witnessed a wardrobe malfunction at a celebrity event? Send your photos, tip-offs and gossip to
spotted@ninemsn.com.au
.