Harry Styles and Taylor Swift, otherwise known as "Haylor", have taken their first holiday together in England's Lake District.
The loved-up celebrity power couple looked relaxed and cheerful, feeding doves and swans in the picture-perfect town of Bowness-on-Windermere.
Haylor posed for photographs with fans, who almost keeled over with excitement at having two of the world's biggest pop stars in their own backyard.
"I was hyperventilating, I just never expected to see them," a jewellery shop owner told the Daily Mail.
"I ran outside and grabbed my phone for a picture, Harry was posing for another photo and Taylor was just hanging back. She thought I wanted to speak to just Harry!"
Taylor proceeded to introduce herself.
"She was really lovely. She said they were just here for the day and I think they were there with his parents," the 24-year-old shopkeeper said.
The same shop owner claimed that the One Direction singer and the pop princess enjoyed the town for around five hours, with teenage girls coming into the store later to ask where they went. Just one direction, girls!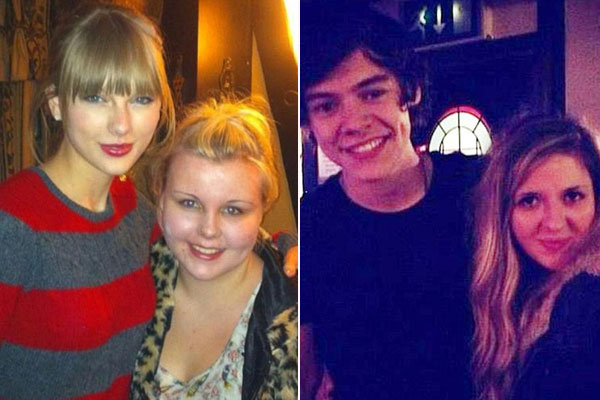 Taylor and Harry pose with fans. Images: Twitter.

The pair visited The World of Beatrix Potter and bought fluffy toys and other gifts from the tourist attraction. Aren't they just the peachiest little pair you've ever seen?
On Monday night, "Haylor" reportedly had dinner with Harry's sister Gemma.
'Harry and Taylor were putting spoons on their noses and fooling around with each other and taking photos of each other," a diner at the restaurant told Heatworld.
"After that they were stood talking and Harry kept putting his hand on Taylor's bum. Taylor had her arms around him a lot and they were really close all night."
Heavens, they're moving fast, aren't they? They've even kissed already — see the first video of their liplock below:
But Hazza wasn't so forthcoming when asked about Taylor that night:
Related slideshow: Celebrity couples who aren't allowed to break up