Is it just us, or has Elle Fanning suddenly had a huge growth spurt? Elle was towering over her older sister in these snaps from their visit to South Korea this week.
According to Daily Mail, 14-year-old Elle is 5ft 7in, compared to 18-year-old Dakota who stands at 5ft 3in.
This means the Twilight star is a whole four inches shorter than her baby sister!
It's difficult to grasp how much of a difference this is, especially when the pair are both wearing high heels. But other photos of them at the airport and shopping in their cutesy Hello Kitty-wear clearly show the height difference.
Dakota once mentioned in an interview that her sister likes to "borrow" her clothes without asking, but we wonder how they fit!
"She steals my clothes!" Dakota told Teen Vogue. "As far as I'm concerned, there's a no-closet-sharing policy."
"But I'll go in my room, and there will be clothes on the floor, clothes missing, clothes that are now in her closet."
"I was in London working on a film, and I was looking online and these pictures came up on my homepage. She was in my hat, my dress, my shoes. I called her up and was like, 'I caught you! They photographed you wearing all my stuff. Put it back!" joked the actress.
The siblings were in Seoul to promote the luxury Korean jewellery and handbag brand, J Estina.
Elle is set to appear as Princess Aurora in Disney's Maleficent alongside Angelina Jolie and Dakota will star in Very Good Girls with Elizabeth Olsen and Demi Moore.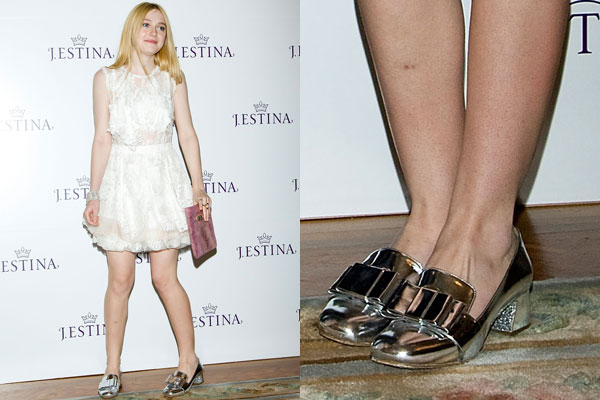 Good try Dakota, but you're going to need higher heels than that!
Image: WireImage/Getty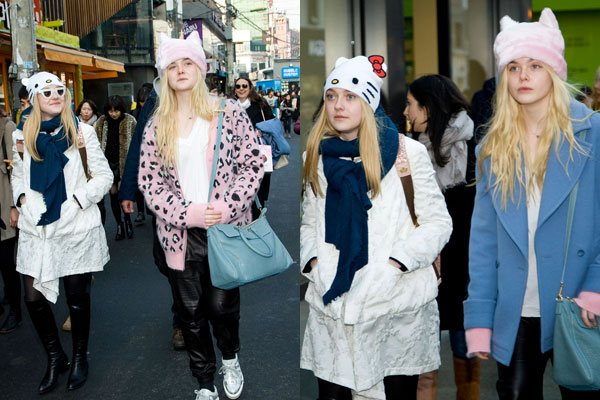 The stylish siblings wore cute matching 'Hello Kitty' outfits out shopping in Korea.
Image: WireImage/Getty