After giving birth to her second child, Kourtney Kardashian is back in a bikini and looking fabulous.
Last month, the 33-year-old mum posed by the pool in Miami for the cover of Us Weekly wearing just a yellow string bikini, less than six months after giving birth!
Baby Penelope, sister to three-year-old Mason, is the newest member of the famous Kardashian family, arriving on July 8 to doting parents Kourtney and partner Scott Disick.
Kourtney, the eldest Kardashian sister, who stands at a petite 152cm tall, now weighs in at 48kg after shedding a crazy 20kg of baby weight.
But the reality TV star admits that getting back into shape wasn't easy.
"It was harder to lose weight the second time around," she said.
"I gained 45 pounds with Penelope."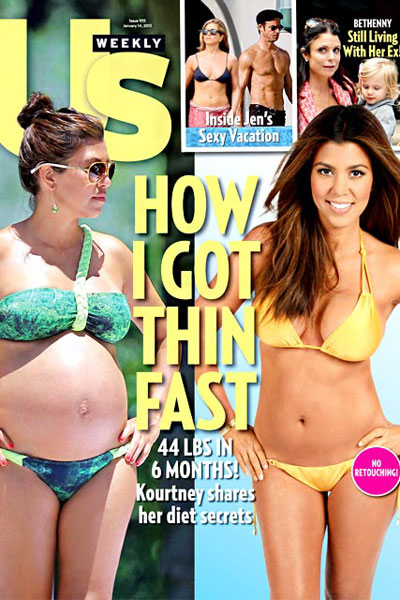 Kourtney is cover girl ready with her sexy post-baby bod
Kourtney claims that it was celeb trainer Tracy Anderson's 90-minute dance-focused workouts and eating small portion sizes that helped her drop the weight so quickly.
"This time, the focus is really on being a mum and being present, knowing my priorities," she said.
With the exciting news that sister Kim, 32, is expecting a child with boyfriend Kanye West, Kourtney's pregnancy tips and tricks will no doubt be shared with her younger sister.
Tweeting about the Kimye baby last week, Kourtney couldn't keep her excitement in:
"Been wanting to shout from the rooftops with joy and now I can! Another angel to welcome to our family. Overwhelmed with excitement!"
View slideshow: 2012's celeb weddings, babies and bumps