An enthusiastic Miley Cyrus has been giving fans a blow-by-blow account of her holiday activities this Christmas.
Never one to shy away from social media, Miss Miley is making sure we all know who shimmied down her chimney the other night.
"Does this count for the carpool lane? Such a nice Xmas gift," said the freshly head-shaven star as she took another hairless and air-headed friend out on a festive joyride.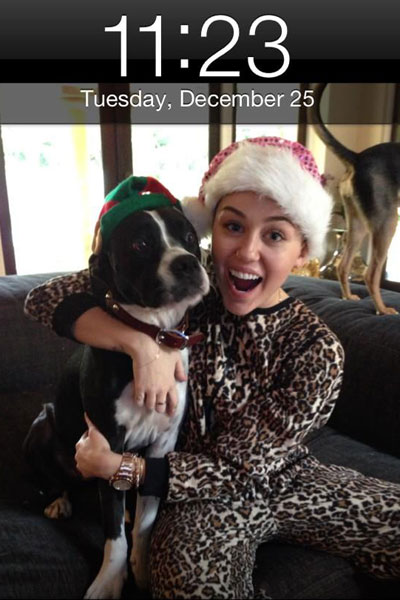 Too cute: Miley and Mary-Jane pose for a holiday snap
In between posting photos of her dogs and proclaiming endless love for fiancée Liam Hemsworth and his coffee-making skills, the 20-year-old former Disney star also tweeted, "Why do I keep having this reoccurring dream of me & @ladygaga giving foot rubs to each other. SO WEIRD".
So far there has been no public reply from Lady Gaga. But who knows what other gifts have filled Miley's inbox this year?