Taylor Swift has channeled her real life love woes in a new photo shoot for Disney.
Posing as Rapunzel, complete with long dangling locks, the 23-year-old pop star is the latest celebrity to feature in iconic photographer Annie Leibovitz's Disney Dream Portrait series.
Locked up in a tower waiting for her Prince Charming to come and rescue her, Taylor exudes longing.
"Prince better come soon!" Leibowitz can be heard calling in a behind the scenes video, to which Taylor earnestly replies: "He's waiting."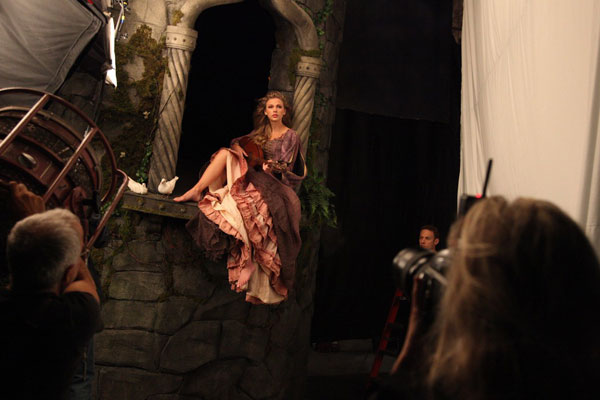 On set: Taylor Swift as Rapunzel
Her love life has hardly been a fairytale, having recently split with boy band beau Harry Styles after a string of similarly short relationships.
At least she's using her heartache for good, as opposed to evil, right?
Leibovitz has previously shot superstars like Beyoncé, Gisele Bundchen and Scarlett Johansson for the series so Taylor-Rapunzel is definitely in good company.
Taylor took to Twitter this week to celebrate some other good news:
"It's official–'I Knew You Were Trouble' is #1 on pop radio!! You guys are unbelievable. I'm smiling SO big right now," she wrote.
Maybe happily ever afters do come true.
View slideshow: Taylor Swift's lovers and the songs they inspired.