Kelly Osbourne has been keeping a very exciting secret from us: She's set to marry her vegan chef boyfriend, Matthew Mosshart.
The 28-year-old reality TV star got "secretly engaged" in the weeks leading up to Christmas, sources close to the couple confirmed with US Weekly.
The pair, who have been together for more than a year, is "really excited" about getting hitched, and Kelly is "the happiest she's ever been", the sources revealed.
"Her career [as a Fashion Police co-host on E!] is going well, and she's in a healthy relationship with a wonderful guy," an Us source said.
The couple met at Kelly's pal Kate Moss' wedding in July 2011, and first stepped out together in December that year.
Kelly recently Fabulous magazine that "I couldn't believe that he truly liked me because I never think people ever could".
"But I'm so happy. I don't think I've ever really known what love is like before," she said.
Of course, anyone who dates an Osbourne must get past daddy Ozzy and mummy Sharon first. The famous folks reportedly approve of 29-year-old Matthew.
The wedding is expected to take place in the UK during their summer. We wonder if it'll be as lavish as her brother Jack's Hawaiian resort nuptials to wife Lisa last October?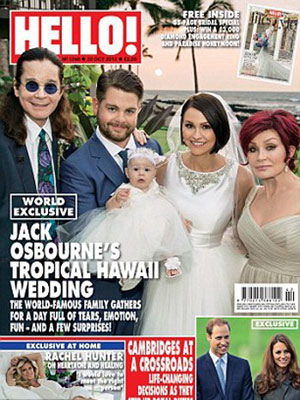 Jack and wife Lisa Stelly with their baby Pearl, and his folks Ozzy and Sharon in Hello! magazine's exclusive wedding spread. Image: Hello!.

Check out
our slideshow of stars who got married or pregnant
in the past 12 or so months: