Now that he's a single man, Justin Bieber doesn't have to worry about what Selena Gomez thinks when he does something inappropriate with a fan.
This time, it's a blatant boob grope at a meet and great session in Miami. In a pictured posted on Justin's official fan club website BieberFever.com, the 18-year-old pop star showed his, er, affection to one lucky fan. Depending on your definition of "lucky", that is.
Weirdly enough, the photo was removed from BieberFever.com. But this is the internet, kids, and what goes up never really goes down.
The fan, who goes by the name of Jocelyn, tweeted her excitement about meeting her idol.
"I JUST MET JUSTIN AND HE KISSED ME ON THE CHEEK AND I'M GOING TO CRY AKFNRNKSNBDAHANDISKBEIAN," Jocelyn wrote.
Once the groping photo went viral, Jocelyn wrote: "I'M DYING HAHAHAHHAHA IT LOOKS LIKE JUSTIN's TOUCHING MY BOOB IN THE PICTURE AHAHAHAHHA I CAN'T".
She added: "Let me clear this up for people who can't read, NO I did NOT ask Justin to touch my boobs". The man himself has made no comment yet.
The Biebs performed in Miami overnight for the last show of his current US tour.
If you're wondering how he's doing post break-up, Justin spoke to Billboard about his newfound singledom.
"I'm not in the happiest place that I've ever been," Justin said.
"I'm trying to get through what I'm going through. Like I said, I have my really close friends to cheer me up and keep me going."
Justin took to Twitter just a few hours ago to say, "a lot of BS has been out there lately … seems like it never stops. Answering for myself through music", posted with a link to his new acoustic Believe album.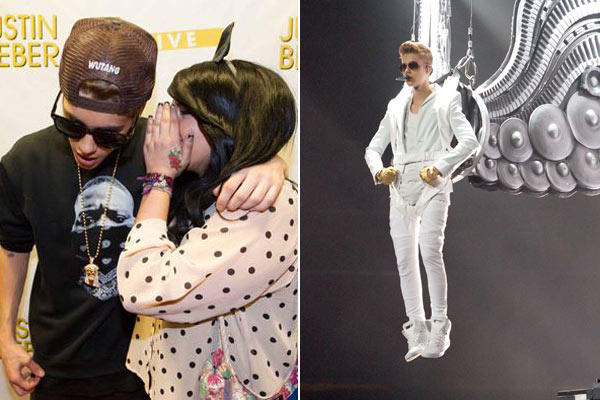 Caption this: What was the fan whispering in Bieber's ear? Plus, Bieber's nappy-style get-up at his Orlando show at the weekend.
Image: BieberFever.com/Splash

A couple of months back, one fan took the liberty of asking Biebs which female body part he prefers most. See what he said here:
In pics: Digitally aged stars!