Kris Jenner allegedly abused daughters Kourtney and Kim Kardashian whilst they were growing up according to a new report in In Touch magazine.
Widower Ellen Kardashian has come forward with what she claims are her late husband's secret diary entries, excerpts of which have been published in the tabloid.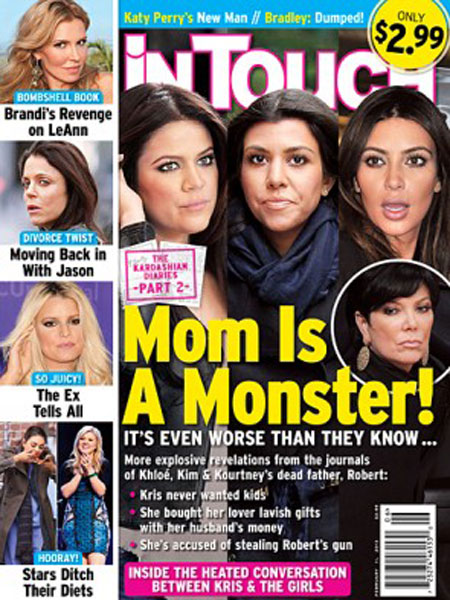 Portrayed as a "monster": Kris Jenner faces nasty parenting claims in In Touch magazine
In one entry,
Robert Kardashian
claimed he received a "crying and hysterical" phone call from eldest daughter Kourtney, claiming mum Kris was pulling her hair and twisting her arms.
Dated October 20, 1993, Kourtney (then 14) and Kim (then 12) "are scared and nervous, have been beat up several times before and are very, very intimidated. "
Details of Kris Jenner's alleged affair with tennis player Todd Waterman are also detailed in the late Kardashian's memoirs.
The lawyer, famous for representing OJ Simpson, died in 2003 from esophageal cancer.
Sources from the Kardashian-Jenner camp have been quick to dismiss the story as absolute garbage.
The greatest Kardashian family scandals