Don't cha wish your girlfriend was hot like this?
Former Pussycat Doll and sometime Kim Kardashian lookalike (at least, we think) Nicole Scherzinger made quite the impression in a sheer gown at Britain's National Television Awards in London on Wednesday night.
While it's a rather modest wardrobe malfunction compared to some out there (cough, Anne Hathaway), the 34-year-old singer accidentally exposed her nipple covers, which weren't really covering up her nipples anyway. Photographic evidence above and below.
Nicole, now a judge on The X Factor UK, also seemed to be having some troubles taming the slit in her William Vintage 1968 Ossie Clark gown. Chucking an Angelina-style leg-bomb is hard work, you know.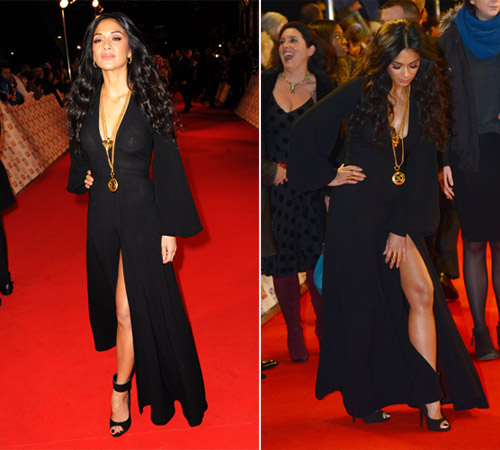 This darn dress! Images: Getty

So what's next for Nicole in 2013? A second solo album, a new single called 'Boomerang', music with her Formula One boyfriend
Lewis Hamilton
, and a possible
Pussycat Dolls
reunion somewhere down the track.
"I love the girls, I miss them, I wish them the best. I don't see why it wouldn't be possible sometime in the future," Nicole told KISS FM. "But right now I'm really excited for all the hard work I put into my music to get that out."
Last November, former band mate Carmit Bahar blamed Nicole for the band's split, telling The Sun that a reunion with "five of us — and not Nicole — could happen. But all six? Never. Too much water under the bridge". Ouch.
Like Nicole's hit songs says, 'Don't Hold Your Breath'.
Nicole is no stranger to a bit of chest attention — check out how she handled Conan O'Brien gaping at her cleavage in this interview: