Supermodel Bar Refaeli struggled to keep her boobs in her top while playing drums at Italian music festival Sanremo.
The Israeli-born 27-year-old managed to keep in time until she broke into a giggle fit and nearly released her own drums into the mix. Yikes!
Looking stunning in a revealing lace pantsuit, it's hard to believe that this model who recently dated Leonardo DiCaprio could be single.
"Let's put it this way, no-one hits on me. No-one flirts with me. It's very sad, actually," Bar recently said on The Tonight Show with Conan O'Brien.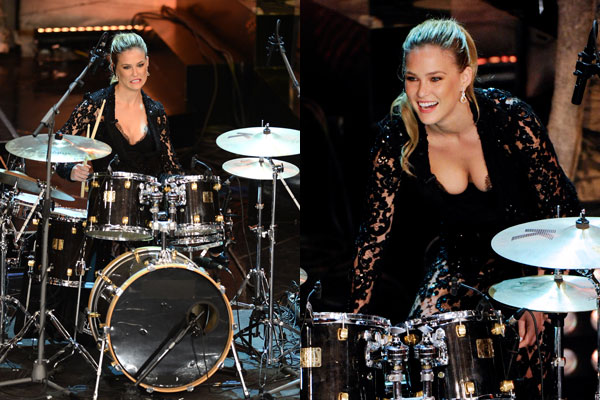 Image credit: WireImage/Splash

At least the Victoria's Secret babe gets a lot of on-the-job action — after all, the last time we saw Bar she was locking lips with a very lucky dude in a Super Bowl commercial. Relive this moment below.
Or if you want to see more drumming of the "cheekier" kind, check out internet sensation "Bum Drums" below.
Related slideshow: 'Models who became celebrities'.