Javier Bardem and Penelope Cruz are reportedly having another baby.
According to People magazine, the pair, who wed in July 2010, is expecting a baby brother or sister for their two-year-old-son, Leonardo.
The 38-year-old spoke with US Vogue magazine in June 2011 about motherhood being a "revolutionary experience".
"From the first second, you feel so much love. That's the best way I can describe it. It transforms you completely, in a second," she told the mag.
"Nature is very wise and gives you nine months to prepare, but in that moment, when you see that face, you are transformed forever."
Penelope and Javier started dating while filming Woody Allen's Vicky Cristina Barcelona in 2007, but met for the first time on the set of Penelope's debut film Jamon Jamon when she was just an 18-year-old.
The husband-and-wife team will star together again in the upcoming film The Counselor, expected to be released later this year. Perhaps we'll get to see a baby bump at the premiere?
Penelope's sister Monica Cruz is also pregnant due to artificial insemination by an anonymous donor.
"I'm going to be a mom!" she wrote on a blog post for El Pais Spanish newspaper last month.
"I have achieved the dream of my lifetime."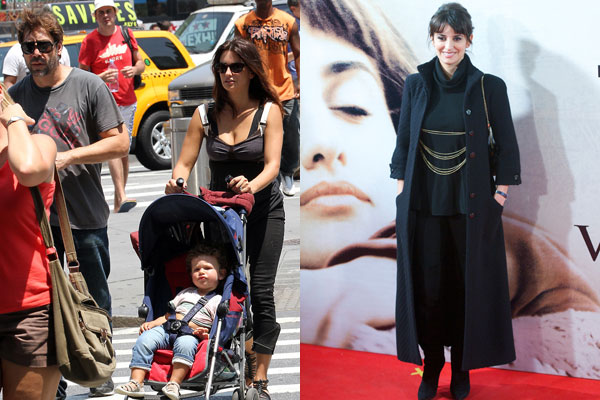 Javier, Penelope and baby Leo / Is Penelope trying to cover a baby bump in those loose clothes?
Image: Splash/Getty