Russell Crowe won high praise for hosting the 2013 AACTA Awards on Wednesday night, but the after-party wasn't as smooth sailing.
The Star casino is investigating an incident in which Russell allegedly kicked Fat Pizza actor Alex Haddad out of the party after he asked to have a photo with the Oscar winner, the Daily Telegraph reports.
Alex told the Telegraph that Russell "rudely declined" to pose for a picture, and "started to get abusive".
According to Alex, security took him outside and told him to keep away from the Gladiator star. After going back inside, Alex was allegedly told to leave the party altogether.
"I wasn't drinking as I don't have more than three drinks because of my liver transplant. I wasn't fighting, and I definitely wasn't harassing Russell," the actor claimed.
"Security told me Russell had asked for me to be removed."
However, Russell's rep told the Tele that he had nothing to do with Alex's removal from the party. Alex, who paid $300 for a ticket to the party, says he wants to take legal action over the incident.
The Star is looking into CCTV footage to ascertain what actually happened.
Russell garnered rave reviews for the AACTAs, one highlight being his story about meeting close friend Nicole Kidman at a Darlinghurst party.
"At a certain time of the night I found myself back to back with Nicole Kidman. I mean really tightly back to back," he said.
"After about an hour of that she turned around to me and said, 'Well seeing we've been so intimately connected for the last hour maybe we should have a conversation', and I looked at that face, that radiant beauty and you probably won't believe this ladies and gentlemen but I couldn't speak."
Earlier that day, Russell greeted Nicole and husband Keith Urban at Sydney airport.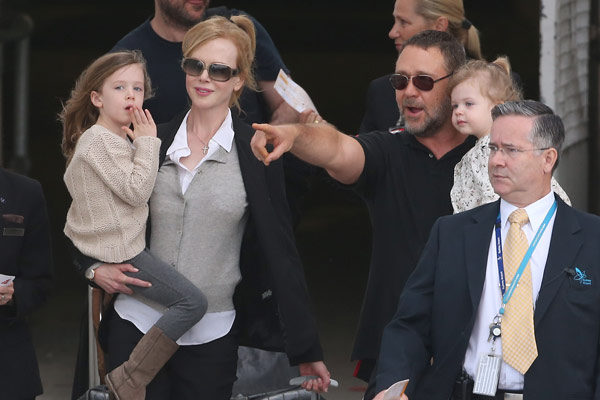 Old pals Nic and Russ catch up at the airport. Image: Getty.
Russ is no stranger to a public battle — check out his recent
Les Mis
karaoke showdown with
Hugh Jackman
:
View our complete red carpet slideshow from the 2013 AACTAs: