X Factor Australia judge Ronan Keating has spoken for the first time about his new Australian girlfriend, TV producer Storm Uechtritz.
In a new interview, Ronan has revealed how Storm has helped him move on after he cheated on model wife Yvonne Connolly with backing dancer Francine Connell, ending his 14-year marriage.
"I'm incredibly lucky to have found Storm after the hurt I caused," Ronan told the Sunday People.
"Finding her has been everything. She is incredible and a beautiful woman — she is just very lovely.
"Storm has taken me from a very, very dark hole to being very happy. It's great to meet someone who wants to be with me for me, rather than for who I am."
Ronan first made friends with Storm on the set of X Factor back in June 2010, not long after news of the cheating scandal went public.
Storm, 31, recently moved to London to live with Ronan. After working on X Factor, MasterChef Australia and The Voice Australia in Sydney, Storm has landed a gig working on the UK version of The Voice.
"I'm happy again and finding someone new has helped me with that so much," Ronan added.
So will we be hearing wedding bells anytime soon? Not for now, Ronan says, although his three children, Jack, 13, Missy, 11, and Ali, seven, have taken well to their dad's new lady.
Ronan splits his time between London and Sydney for work, and sees his children in Ireland. We'll see Ronan's movie debut in Aussie musical comedy Goddess in March — as you can see in the trailer below, it's a rather revealing role indeed!
The 35-year-old singer parted ways with wife Yvonne officially in 2012, three years after his seven-month affair with backing dancer Francine.
Luckily, Yvonne has found love again too. She has been dating cameraman John Conroy since early 2012. No more Ronan Cheating!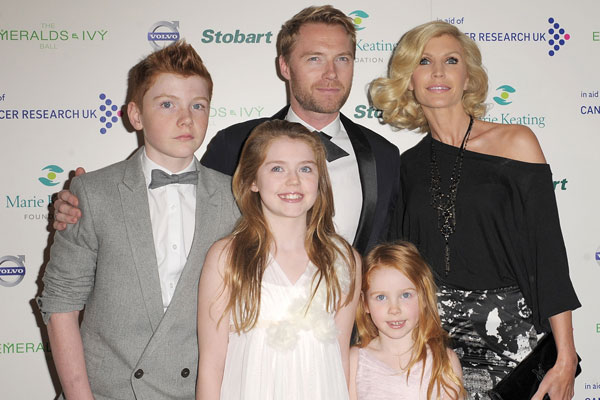 Ronan with Yvonne and the kids after a short-lived reconciliation in 2011. Image: Getty.


Do you have a celebrity story that should be published on TheFIX? Taken a sneaky pic of a star that you want to share with the world? Send your photos, tip-offs and gossip to spotted@ninemsn.com.au.