So much for that clean-cut image the One Direction boys are meant to have.
Last week it was Zayn Malik being accused of cheating on his girlfriend with an Aussie waitress, now band mate Harry Styles has been photographed being a very naughty boy just weeks after his short-lived romance with Taylor Swift went belly up.
Harry celebrated his 19th birthday partying with dozens of friends in east London on Friday night into the wee hours of Saturday morning. While spending thousands on drinks for his friends, Harry received a nice little gift in return — a kinky lap dance from a stripper dressed as a cop. Thankfully for us, the pictures have made it online.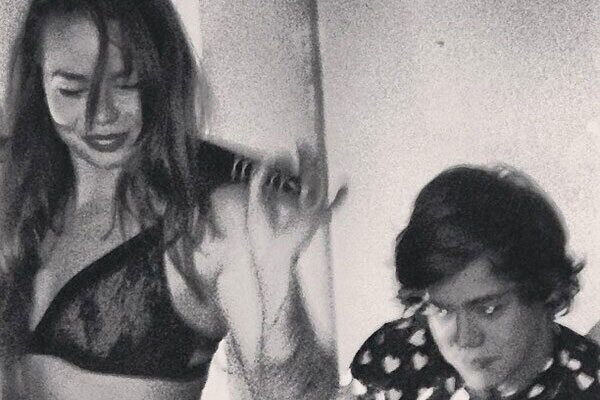 Fun direction: Harry's devilish ear-to-ear grin mid-lap dance. Image: Twitter/JessBesst.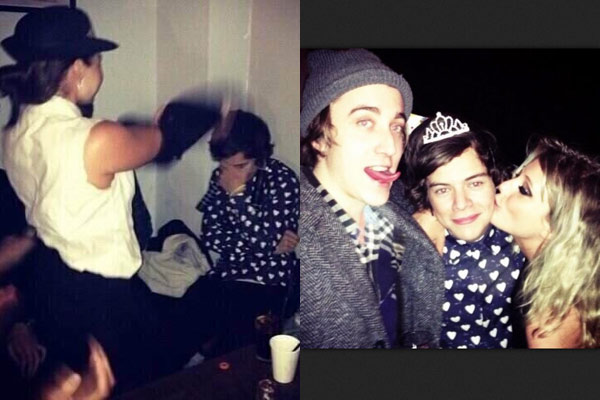 You're under arrest! Images: Twitter/Wheres1D.

The 1D ladies' man even found a moment to tell
The Sun
newspaper what he thought of his surprise lap dance.
"It was great. I was in stitches," he said. "She forgot her truncheon [police baton]."
Harry was certainly forgetting about ex Taylor as his near-naked stripper jokingly held him "under arrest". The heart-throb told The Sun that his stripper got "down to her underwear but unfortunately there was a no-nudity policy in the bar". What a shame!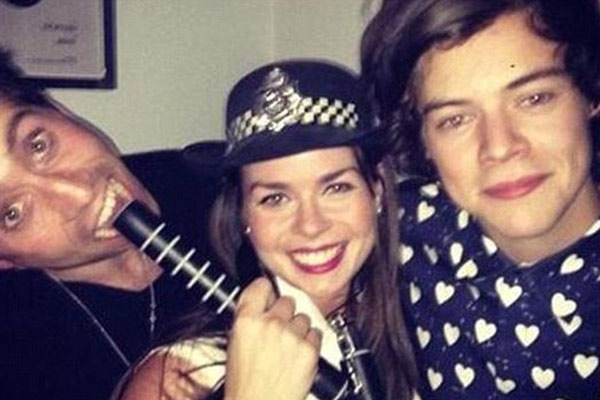 The stripper forgot her baton, but brought nunchucks instead. You've been a very naughty boy, Harry! Images: Twitter.

Harry's 1D pal
Niall
was also there, but it was Hazza's mate, Radio 1 DJ
Nick "Grimmy" Grimshaw
, who organised the stripper.
"The stripper didn't really say anything, she just began her routine," Harry recalled.
"I have never seen my manager run so quick to cover the CCTV cameras but the pictures got out anyway."
Not that he seems to care much! Harry looks pretty happy, and rather intoxicated in the pics.

Harry and band mate Niall looking bleary on their bender. Images: Splash.

Harry had around 70 friends in tow, including
Pixie Geldof
and
Hurts
singer
Theo Hutchcraft
.
He was seen leaving Alibi nightclub at 3am with a blonde girl named Eve Lee, heading to a friends' party for more boozing until 4.30am.
Harry was scheduled for a 9am wake-up call for rehearsals for 1D's upcoming world tour. How'd he cope?
"Put it this way, it was a long day. We had two nights on the trot but you have to on your birthday, don't you?" Harry told The Sun. Taylor, who?
The night before, Harry partied with UK TV presenter ex Caroline Flack — more debaucherous details in the video below.
It's been less than a month since Harry and pop star ex Taylor split. Taylor left their tropical holiday in the British Virgin Islands early, leaving Harry to enjoy Richard Branson's hot tub with a bikini girl and friends.
At this rate, it looks like they'll never ever, ever get back together.
Taylor Swift's lovers and the songs they inspired