Jason London, the fading star of '90s grunge film, Dazed and Confused, remains hospitalised after a bar brawl left his face beaten, swollen and very sore looking. Now new photos show his hands remain unbruised, which the star claims proves he's "the victim".
Jason alleges that the assault was unprovoked, but security guards at the Arizona bar where the altercation reportedly occurred insist the star was violent and had to be forcefully removed.
Now, while recovering in hospital, photos of Jason's unmarked hands have surfaced on TMZ. Jason believes this is proof he did not fight back, and he was the victim rather than the aggressor.
Jason's management have elaborated on the situation, commenting, "This was not the result of injuries sustained due to a belligerent patron during routine removal. These are injuries sustained of a brutal attack using excessive force and deliberate and intentional beatings designed to injure and cause maximum damage. Which they did".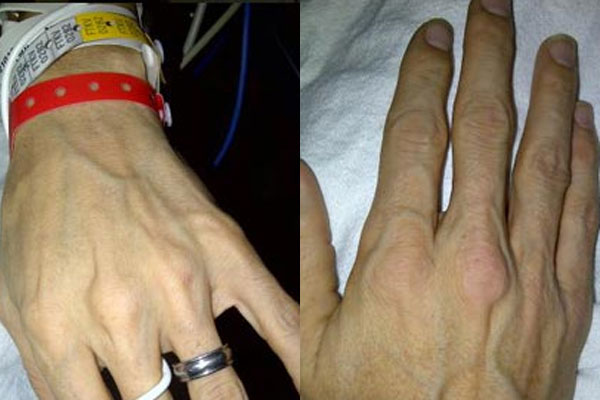 Jason's unmarked hands, but that middle knuckle looks a little red to us. What do you think? (Photos: TMZ)
The 40-year-old is currently being treated in hospital for concussion, a right orbital fracture, a sinus fracture, multiple contusions, hematomas, abrasions and a lot of swelling. Ouch.
You might remember that small detail of Jason reportedly soiling himself in the cop car after his arrest. No fun for Jase at the moment it seems.