Beyonce has appeared on the cover of US Vogue's March issue, telling the mag about the not-quite-ordinary birth of her daughter Blue Ivy Carter more than a year ago.
The 31-year-old revealed that she and unborn baby "communicated" with one another through the delivery.
"I felt very maternal around eight months, and I thought I couldn't become any more until I saw the baby," Beyonce said. "But it happened during my labour because I had a very strong connection with my child."
"I felt like when I was having contractions, I envisioned my child pushing through a very heavy door. And I imagined this tiny infant doing all the work, so I couldn't think about my own pain. We were talking. I know it sounds crazy, but I felt a communication ... It was the best day of my life."
And it looks like baby Blue might have a brother or sister to join her in the near future.
"When I was younger, there were moments where I said, 'I'm not going to have children', and then moments when I wanted four," Beyonce told the mag. "And now I definitely want another, but I don't know when."
To those rumours that she faked her pregnancy, Beyonce had this to say: "Who even thinks that? Like, who would make that up ... You can't take it too seriously."
Meanwhile, while most Grammys-goers would be hiding their hungover heads under the sheets or behind dark shades the day after the music industry's night of nights, Bey looked fresh-faced and fabulous the morning after.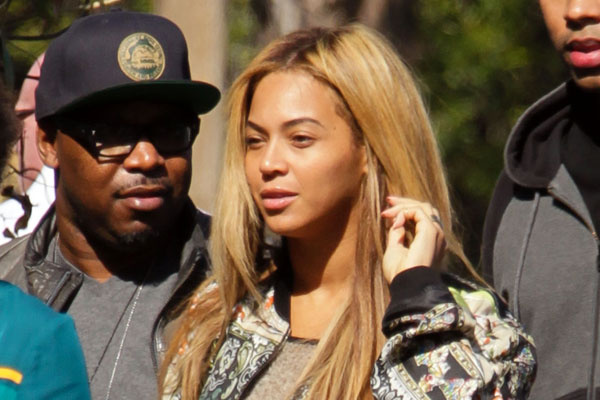 Bare-faced and beautiful, Beyonce steps out with no make-up. Image: Scope.

Bey went out to lunch in LA with husband
Jay-Z
, sister
Solange
and friends.
The 'Love On Top' singer was dressed casually in a patterned Dolce and Gabbana zip-up jacket and leather trousers, while her sister wore bright red lipstick and a striped polo shirt.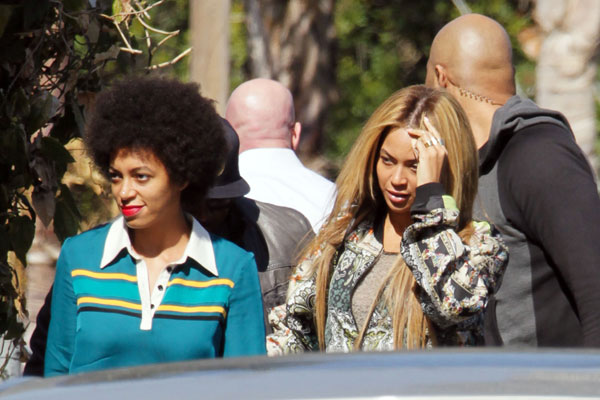 Beyonce and sister Solange hit the streets of Venice Beach yesterday.Image: Scope.

It was a bit of a change from their glammed-up red-carpet looks the night before, Solange in a sparkling emerald gown with a thigh high split and Beyonce rocking a geometric jumpsuit.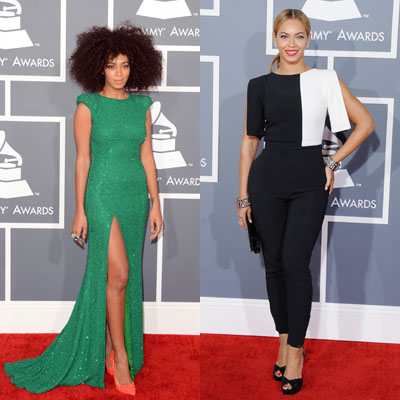 Sisters doing it right: Solange and Beyonce glamming it up at the The Grammy Awards.Image: Getty.

Beyonce's understated awards outfit choice was an elegant contrast to her startling fame and recent heights of exposure.
Following an acclaimed performance at the Super Bowl, she is about to release a self-produced documentary titled Beyonce: Life is But A Dream, which will air on US network HBO on February 16, and will sit down for an interview with Oprah that same day.
View gallery: Faking no make-up. Are these stars really au naturel?