Taking to Twitter to vent her frustration, Evan Rachel Wood has lashed out at the photographers who snapped images of her unborn baby.
The True Blood actress was photographed leaving a Los Angeles hospital earlier this week carrying the results of her ultrasound, which were subsequently published online by UK tabloid The Daily Mail, with the headline "Baby's first picture! Pregnant Evan Rachel Wood can't stop smiling".
The 25-year-old is pregnant with her first baby with husband Jamie Bell. The couple, who quietly married in October, are notoriously private and refuse to discuss details of their relationship in public.
When the images emerged online, "Mama bear" Evan's claws came out as she tweeted this series of remarks, calling out the anonymous photographer: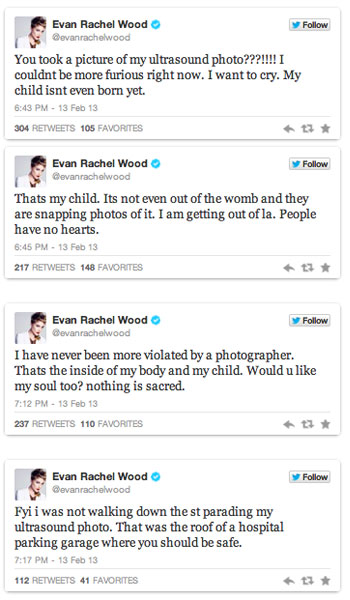 After the photos were removed, Evan went back online to explain her cyber wrath.
"Man, when that mama bear instinct kicks in, she KICKS in," she tweeted.
Don't mess with mama Wood, that's all we can say.
View slideshow: Bumptastic pregnant celebs