When last night's Oscars crossed live to the White House's Michelle Obama to present the Best Picture nominations, most coverage showed the First Lady dressed in a low-cut silver metallic gown. Iranian news agency Fars found her choice of frock a little risqué, choosing to Photoshop her image to conform to national media censorship standards.
The agency added capped sleeves and a higher neckline to the dress in an effort to make Michelle's appearance more conservative.
Watch the original speech footage above.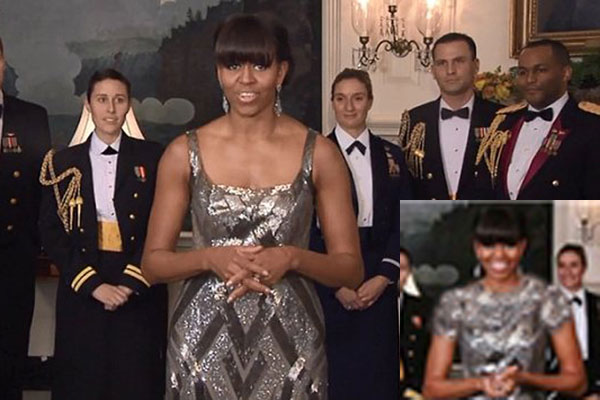 Image: ABC/far News Agency

This isn't the first time that publications in Iran have censored footage.
According to UK newspaper The Guardian, "rules dictate that Iranian women shown on Iran's state television should have a hijab that covers their hair, arms and legs."
"The length of the censor's ruler varies for foreigners. A foreign woman travelling inside the Islamic republic should comply with the same restriction on Iranian women, but those shown on TV, such as dignitaries or actors, are tolerated without the hijab, up to a point.
"Men enjoy relatively more freedom, but only sportsmen are allowed to be shown with bare legs on TV."
The agency was also "infuriated" when Argo won Best Picture, calling the film "anti-Iranian" and an "advertisement for the CIA".
The film focuses on the real-life story of CIA operative Tony Mendez, the man responsible for rescuing six US diplomats from Iran during a hostage crisis in the '70s.
Argo director Ben Affleck thanked the people of Iran when accepting his Best Picture gong.
"I thank you everyone in the movie, on the movie, worked on the movie, did anything with this movie gets thanked," he said.
"I want to thank Canada. I want to thank our friends in Iran living in terrible circumstances right now." Watch Ben's acceptance speech in the video below.
Check out who else took home the gold with our big winners of the 2013 Oscars slideshow: