Ah, Lilo. The more we hear, the more we can't help but love your nasty, trainwreck ways. The last we heard from the infamous party girl, she was appearing in court looking dazed, confused and a little like a tangerine nightmare.
This time, Ann Dexter-Jones, hot rock'n'roll mama of Lilo's superstar DJ ex-girlfriend Samantha Ronson has come forward in a tell-all interview with Daily Mail to dish up a little dirt on how she had to intervene to protect her baby girl from fiery Lindsay.
"It got to a point that I wasn't sleeping very well," told Mama Ann, ex-wife of Mick Jones from Foreigner and a famous rock'n'roll party thrower from the '70s British rock scene.
"I was seriously anxious about Samantha's safety and wellbeing. I feared tragedy," Dexter-Jones told the publication.
Don't get her wrong, Mama Ann's had her fair share of wild child times herself, throwing A-list parties at her family home in New York with the likes of David Bowie, Paul and Linda McCartney, Yoko Ono, Michael Douglas and Al Pacino.
Not to mention having Bruce Willis, Demi Moore and even Steve Jobs as neighbours. And two rock'n'roll ex-husbands. Hardcore!
But Mama was definitely not raised no fool. The VIP after-party incident at the 2008 opening of The Atlantis luxury hotel in Dubai was the final straw for Ann. Sam was brought there to DJ in the company of Mary-Kate Olsen,Oprah and Kylie, when then-girlfriend Lilo reportedly threw a total hissy fit.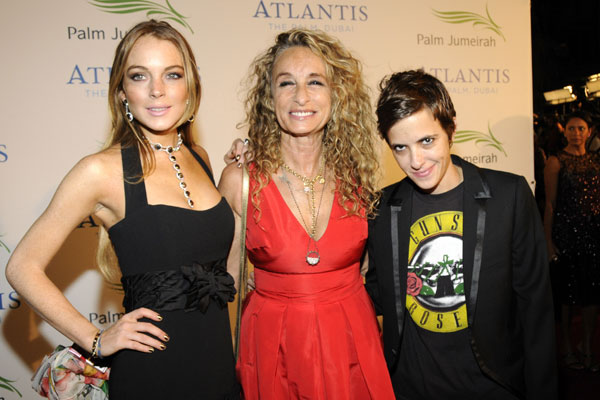 Tanty Queen: Lindsay with Ann and Sam at The Atlanis opening in Dubai. Image: Getty Images
"Suddenly, without any warning, Lindsay flung herself on to the thick carpet and started to roll around screaming like a child," recalls Ann. Whaaat? Lindsay girl, this sounds cray.
"It seemed she was upset that people, including Samantha, were not paying her enough attention." If only someone could have given her a magic ball with a view of now.
Mama Ann was not pleased and for her, this event set off huge alarm bells.
"To my mind, it was classic psychotic behaviour," she said. "I took Lindsay aside and told her not to make a spectacle of herself. She was clearly out of control and spoiling for a fight."
I guess Mama knows best — and certainly how to spot an oncoming collision by the sounds of it. The next morning she faced the both of them and spoke her mind,
"I told them I could no longer support them as a couple. I no longer approved on them being together and that Lindsay was no longer welcome in my home," Ann told. Which didn't go down too well with ol' Lilo and Sam. No surprises there. Ann calls it her method of "tough love".
"I saw how much pain my daughter was in and that she was suffering deeply. She is a very Zen person and not used to the kind of turmoil that Lindsay seems to thrive on," added Ann.
Fair enough!
Ann hasn't come across Lindsay since she "backed off", concluding that, "all I shall say is that I wish her well, because I have no problems with her any more".
In pics: Lindsay Lohan's biggest scandals