During a recent shoot with ELLE UK, Rihanna revealed just how serious her controversial relationship with Chris Brown is.
"[Her latest single] 'Stay' is a story about having love that close and wanting it to last forever," she told the magazine.
"You don't have that feeling with everybody so when you have it you don't want to let go of it."
"I would definitely say that he [Chris Brown] is the one I have that kind of relationship with."
The 25-year-old also discussed plans to have children.
"I will probably have a kid. And I'm praying I can go on vacation for a good month," she said.
"I'll have set some things up so I don't have to tour for the rest of my life, even though I love touring."
"I want health and happiness in five years. I want to be healthy and happy," she added.
Posing in sex kitten ears for the shoot by Peruvian fashion photographer Mariano Vivacano, Rihanna shows us her sizzling polished side, a huge contrast to the Rihanna we see in her blurry Instagram stoner snaps. Watch the shoot above.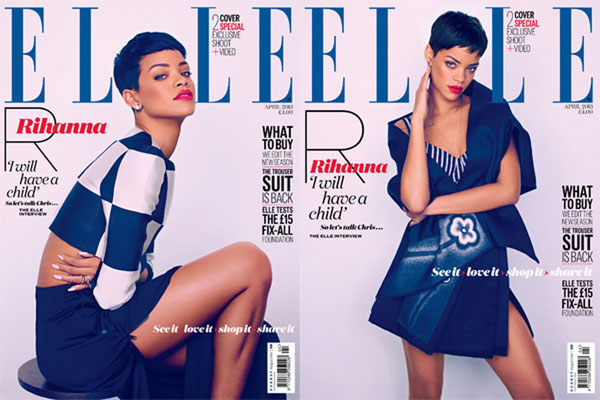 Rihanna poses in a midriff for the cover of ELLE UK magazine.
Image credit: Mariano Vivacano/ELLE UK

The singer also talked to ELLE about getting a "fresh start" since Chris assaulted her in 2009.
"Right now that's just what we want, a great friendship that's unbreakable," she said.
"Now that we're adults we can do this right. We got a fresh start and I'm thankful for that.
Rihanna's life is constantly under fire by media and fans alike. So how does she deal with all the pressure?
"Everybody wanted to know what was happening in my life," she explained.
"'Is she a drug addict?' No. 'Is she an alcoholic?' No. 'Is she a victim?' No. That's when I got the gun [tattoo]. It was a symbol of strength. I'll never be a victim.
"That's why I'm posting pictures of myself smoking pot, to tell the truth about myself," she added.
"I've got so much to think about, why bring all this extra s--- by being dishonest."
In pics: Rihanna's most shocking scandals