Justin Bieber had a rocky start to his UK tour last week, to say the least.
The boiling point came on Friday when Justin lashed out at paparazzi who were insulting him — watch above.
With show delays, fainting backstage, bouncer brawls, the pap attack and the unforgiving British media, Justin turned to Men in Black star Will Smith as a mentor to help him through the drama.
"Love to big man Will Smith for the great talk yesterday. We know the truth and we must stand tall. Love you man! Thanks!" the 19-year-old tweeted yesterday.
Will's 14-year-old son Jaden Smith is one of Justin's three support acts on his UK tour. Jaden's been sharing his daddy with the singer in the absence of his own parents, who are currently in the US.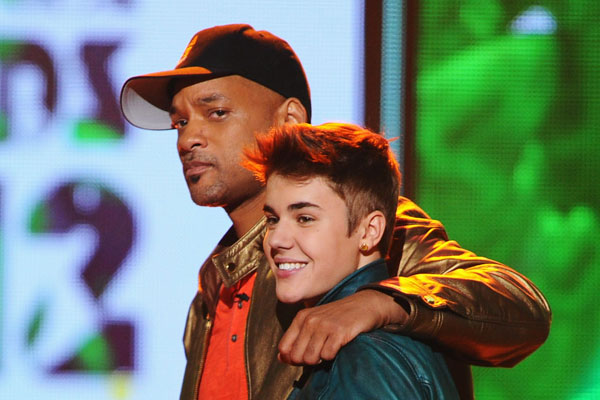 Will and Justin at the 25th Annual Nickelodeon Kids Choice Awards
Image: WireImage

Australian singer Cody Simpson, 16, is also supporting Justin on tour with his mum Angie Simpson in tow.
"Will has been helping Justin out a lot, mentoring him and offering him guidance," Angie told Daily Mail.
"He's someone who is used to this level of scrutiny and it has helped having him around.
"Justin is an adult and has a very strong, loyal and professional team around him, but it is hard for anyone to come under such pressure."
The media went wild with the news of Justin's so-called "breakdown" — which is best summed up by a series of stressful events culminating in the teenager acting out in typical angst-ridden frustration.
"Ahhhhh! Rough morning. Trying to feel better for this show tonight but let the paps get the best of me," he tweeted after the incident.
"Sometimes when people are shoving cameras in your face all day and yelling the worst thing possible at you ... Well I'm human. Rough week," he explained.
One Direction star Louis Tomlinson also took to Twitter to defend the singer who he believes is just acting like any other teenager.
"I really do empathise with him," Louis wrote.
"I don't see anything out of character in comparison to any other teenagers I know."
Justin's "rough week" was heightened by the negative reaction to his reported two-hour delay for his Monday show in London. Find out why in the video below.
But the star explained via Twitter that he wasn't two hours late as reports indicated, but 40 minutes late — not to mention it being out of his control.
If the media attention wasn't enough, the star also collapsed back stage at his Thursday concert and decided to carry on with the show anyway, regardless of health warnings. Watch his manager's explanation on stage below.
Justin's March 12 show with Carly Rae Jepsen and Cody Simpson in Lisbon has been cancelled due to "unforeseen circumstances". The Believe tour is set to move on to Spain on March 14.
"The press made things look nuts but really I have enjoyed London. The fans are incredible," Justin added.
"I will be back [to London] — and I will see u again. I am grateful for all of you. You are what made some of the other stuff worth it."
Watch more celebs going crazy on camera in our celebs off the rails video slideshow: