Where Lindsay Lohan goes, bad things just seem to follow. As Lindsay arrived at a Los Angeles court, she was glitter-bombed by an onlooker and, in the chaos, one of her escorts managed to trip over a cement pylon and fall over. Nasty. Watch this train wreck in action above.
After a string of offenses and jail time since 2007, Lilo is still under the bright courtroom lights after yet another driving offense (as well as allegedly lying to a police officer).
The latest chapter in the trash-bag saga that is Lindsay Lohan's life at least ends on a high note.
After arriving more than 40 minutes late to her court date, the star accepted a plea deal after a misdemeanour car crash. She'll now have to serve 90 days in a rehabilitation facility.
Sadly, there's no word on whether her escort was okay after his fall. However, we imagine the fine cloud of gold glitter probably helped ease the pain.
It certainly made us smile, anyway.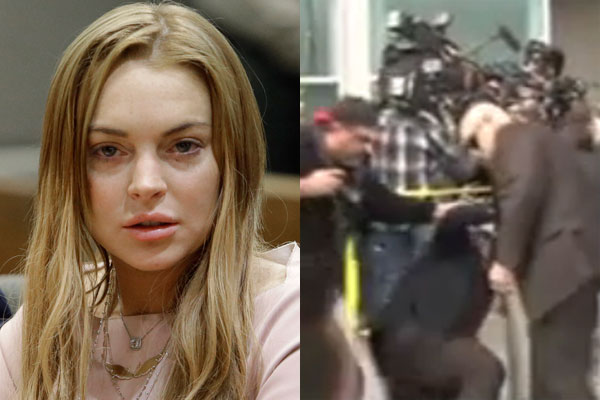 Ever notice how Lindsay is looking more and more like the ghost girl in The Ring these days? Pic: Getty / Supplied
Someone who wasn't smiling was Lilo's dad Michael Lohan, who lost his mind in a freaky outburst at Lindsay's lawyer. He accused Lilo's lawyer of "cashing in" on his daughter's constant illegality.
Sorry, Mike, but it's not the lawyer's fault she keeps messing up. Nice try though.
Enjoy another Lohan mini-catastrophe in video form below:
In pics: Lindsay Lohan's biggest scandals