Jack Nicholson loves the ladies (and everybody loves Jack Nicholson). Oh Jack, you sure do have a way with women. You managed to reduce Oscar winner Jennifer Lawrence to a quivering mess on live TV (see below).
Now you have a throng of cheerleaders giggling away. And who's that amazing basketball star giving you a smooch on the head?
Standing courtside at a Dallas Mavericks v Los Angeles Lakers NBA game earlier this week, Jack surprised Lakers fans with a very different kind of spectacle.
Never one to shy away from a lovely lass or two, Jack enjoyed the game in the company of some very happy cheerleaders. That dude has game.
Not only that, but Shaq, '90s basketball hero and sometime-actor came over and embraced the veteran actor before giving him as smooch on the head in front of the cameras.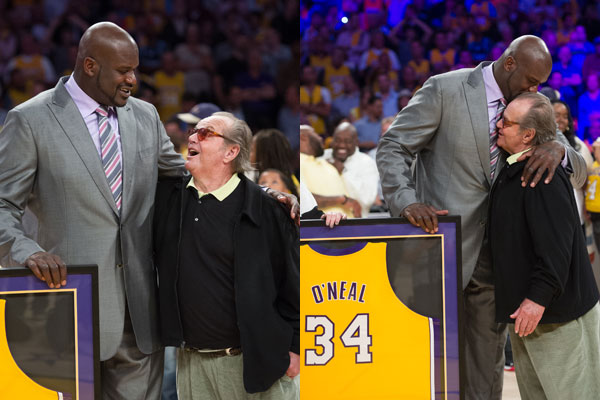 Talk about a Shaq-attaq! Pic: Getty
Jack is a regular Lakers fan, often snapped courtside at games. Naturally, he's rarely without a lady on his arm either.

Jack looks right at home here, huh? Pic: Getty
Check out more of Jack's irrepressible charm in this incredible video with Jennifer Lawrence below. What a swagger-charged player!