Cheaters gonna cheat. So says the gospel according to Devon James, former hooker/porn star and mistress to 37-year-old golfer and notorious lothario Tiger Woods.
After Tiger and his new girlfriend, Olympic skier Lindsey Vonn made their relationship Facebook official yesterday, Devon spoke to TMZ about what she really thought of the athlete couple.
"I thought he would have picked a woman who was more petite and not someone who is more muscular and has a bigger head than his. But maybe his taste has changed since Elin and the 27 mistresses," she said, referring to Tiger's ex-wife Elin Nordegren and the massive 2009 cheating scandal then ultimately led to the couple's divorce a year later.
Devon continued, "But you know when the pics came out of Tiger and his new girlfriend ... somewhere, 15 other girls were going , 'Huh? I thought I was his GF!'"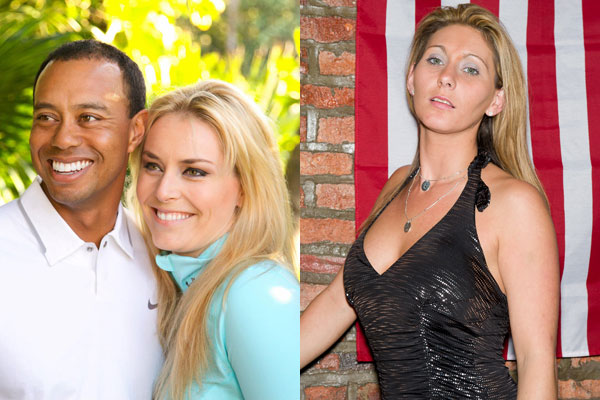 Tiger and Lindsey smile for the camera (left), but it's not all roses according to ex-mistress Devon (right). Image: Facebook/Getty
The pictures she is referring to are professional portrait photos taken of Tiger and 28-year-old Lindsey, which were posted to their respective Facebook fan pages with the following messages.
From Tiger:
"This season has been great so far and I'm happy with my wins at Torrey and Doral. Something nice that's happened off the course was meeting Lindsey Vonn. Lindsey and I have been friends for some time, but over the last few months we have become very close and are now dating. We thank you for your support and for respecting our privacy. We want to continue our relationship, privately, as an ordinary couple and continue to compete as athletes."
Lindsey posted the following:
"I guess it wasn't a well-kept secret but yes, I am dating Tiger Woods. Our relationship evolved from a friendship into something more over these past few months and it has made me very happy. I don't plan on addressing this further as I would like to keep that part of my life between us, my family and close friends. Thank you for understanding and your continued support! xo LV."
Let's hope that Tiger's wild ways are behind him, because we've seen Lindsey's muscles and let's just say he won't want to mess with that!
Do you agree with Devon or do you think Tiger is a changed man? Have your say below.