A previously unseen photograph of Angelina Jolie posing topless with a white horse has been released for a high-profile auction next month.
The 12-year-old portrait, taken by celebrity photographer David LaChapelle in 2001 when Ange was just 25 years old, is expected to fetch up to $50,000 for the Christie's auction, RadarOnline reports.
In the pic, Angelina shows her notorious "Billy Bob" tattoo, a throwback from her brief marriage to actor Billy Bob Thornton, as she throws her head back and lets the horse nuzzle her bare breasts, in the most tasteful way possible.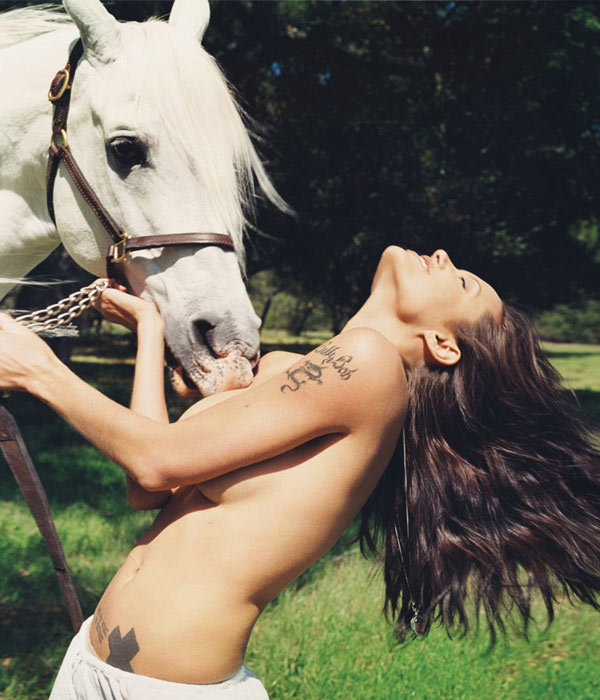 Horsing around: A young Ange gets close with her furry friend
Image: David LaChapelle/Christies.
Appearing as part of
The Wild Side of Photography
sale at Christie's fine art auction house in London, the art piece will be joined by a black-and-white photo of Angelina and fiancè
Brad Pitt
posing as husband and wife with a dinner table full of kids, taken in 2005 by
Steven Klein
. Meanwhile,
The Sun
reported that Ange flew a load of curry over to Los Angeles for Brad during a recent trip to London.
"Brad is back in America and has been longing for a decent curry," a source told the paper.
"He really misses their Indian takeaway nights from when they lived in Surrey last year. Angelina arranged as a surprise for a load of it to be cooked and flash freeze-packed for her to fly home.
"They even got a load of Kingfisher and Cobra beer for Brad to wash it all down with."
The selection was apparently loaded onto their private jet, along with other tasty international treats like jelly babies and baked beans. We're pretty sure that when you're Angelina Jolie, getting through customs with a stash like that would probably be a breeze.
Lucky for some.
The LaChappelle photoshoot was not the first time Angelina has taken off her clothes for the camera. Check out this 1997 music video where she strips for The Rolling Stones:
Ange is all class, unlike these shameless celebs: