Looks like Miley Cyrus's hens night has come early. The pop starlet jetted off to Miami for a wild weekend with friends and a noticeably absent fiancé Liam Hemsworth.
Visiting hotspots such as Cameo nightclub and Arkadia, the underage 20-year-old partied with the likes of Pharrell Williams, Lil Kim and T.I., staying out until all hours and capturing the best moments for her one million Instagram followers.
Check out the wildly sordid affairs of this bride-to-be as she lets loose with pals on the dancefloor (at least we think that's where she is!).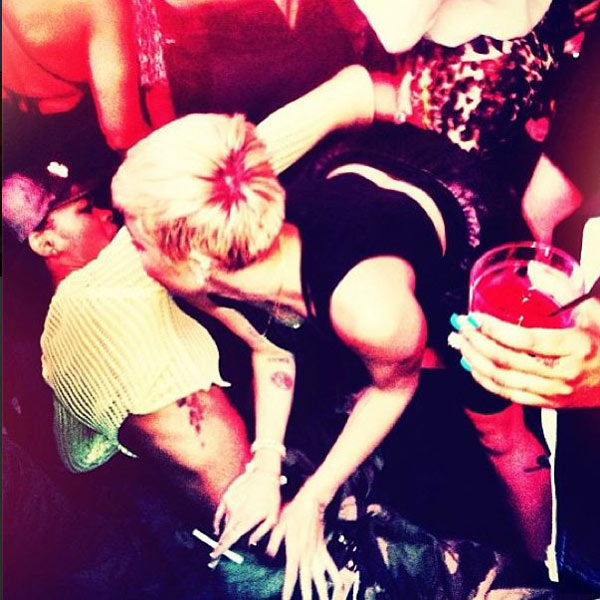 Bottoms up: Miley in da clurrrb gettin' tipsay.
Image: Instagram
Decked out in leather, studs and with red lips, Miley proved once again how far gone she is from the days of
Hannah Montana
.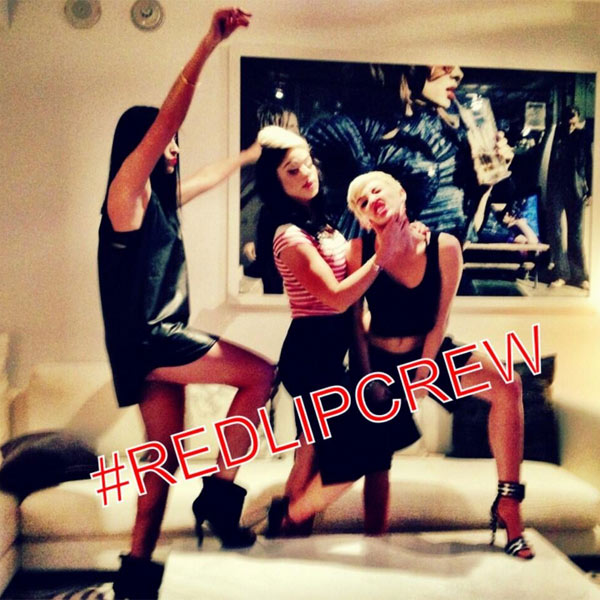 "Red Lip Crew": Miley poses with friends in a hotel room
Image: Instagram
The former Disney star has been slowly upping her street cred, creatively heading towards more of a hip-hop style in the past year. Her most recent musical collaboration was 'Ashtrays and Heartbreaks' with rapper turned reggae star
Snoop Lion
, where she sings the line "Now my buzz is gone, and I need to re-up on reality". Listen below:
Her sexed-up "twerking" video also sent the interwebs into a spin recently: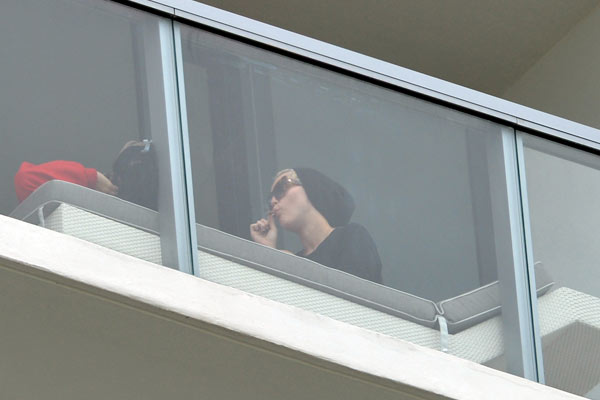 This weekend just past, Miley was snapped smoking suspicious-looking hand-rolled cigarette on her hotel balcony.
Image: BIG Australia
Miley's teamed up with hip-hop and R'n'B artists like
Mary J Blige
and
Tyler, the Creator
on her fourth studio album, which is expected to be a marked departure from her pop-country roots.
Snoop isn't the only rapper asking her to collab either. She'll also appear on a new will.i.am track and in a music video for Lil Kim and her proté gé Tiffany Foxx.
Absentee fiancé Liam is also keeping busy. The 23-year-old Aussie hottie has four films due for release this year, including The Hunger Games: Catching Fire, the NYPD drama Empire State, Vietnam-era love story Love and Honor and the Harrison Ford thriller Paranoia.
With their lives heading in increasingly separate directions, how exactly will they schedule in a wedding? A selfie tells a thousand words, so I guess we'll just have to stay tuned to Miley's Instagram account to find out.
Growing Up Too Fast: Child Stars In The Fast Lane