It's bound to cause tensions in one of Hollywood's most high profile families but Paris Jackson has chosen to move out of the home she shares with her guardian and grandmother Katherine Jackson. We smell trouble.
So, where will the 15-year-old be living? Well, TheFIX can exclusively reveal, from our well-placed Jackson sources, that Paris will be moving in with her birth mother, Debbie Rowe.
Over the last six weeks, the pair have been bonding, with Paris choosing to spend her 15th birthday with Debbie in April rather than 84-year-old Katherine and the rest of the Jackson family.
Our insider explained: "Whilst she loves her grandmother Katherine, Paris thinks she has some extremely old-fashioned beliefs.
"It's been very tough living under their roof and whilst her brothers also feel the same way, it's Paris who's recently taken the lead in standing up for her beliefs and defying her grandmother."
Our source also explains that for the first time, Paris feels that under Debbie's supervision she could have a normal upbringing.
In the last few weeks, the pair have been spotted at a pony ranch, enjoying sushi and attending a local beauty pageant in Debbie's hometown of Temecula, California.
"Paris loves the fact that when she's out with Debbie, there aren't any security or bodyguards around them," says the source.
"For years she was forced to wear masks, protected by a harem of security and surrounded by entourage.
"She hates that life and knows that was something Michael wanted to protect all of them from. She feels that by separating herself from her grandmother, she could have a more normal life."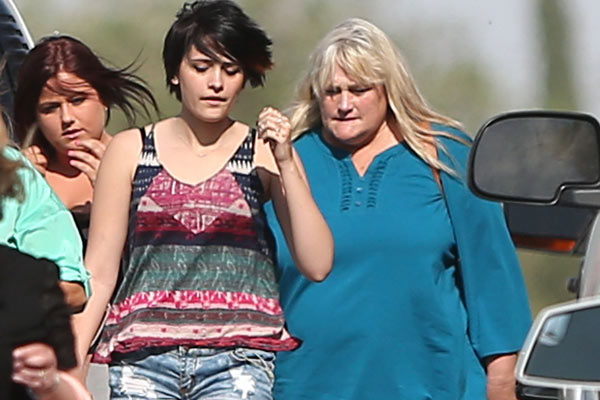 Paris and her mum Debbie 'bonding'
Debbie, 54, was married to Michael Jackson for three years from 1996 and is the biological mother to Paris and Prince Michael.
When she divorced Michael in 1999, she gave him sole custody of the children in a rumoured $8 million settlement.
The source adds, "There has been a string of turbulent rows in the Jackson home over the past few weeks and it's all coming to a head."
It's not the first sign of tensions within the Jackson family, with reports earlier this month stating that Paris has refused to accept her grandmother's strict Jehovas Witness beliefs.
"Paris is an extremely independent young woman and as she's got older, she's starting to voice her opinion more and stand up for herself and her beliefs," says the source.
The next stage? Our insider explains that Debbie is calling for a meeting to discuss the legalities surrounding Paris moving in with her.
The source added: "Paris is trying to persuade Prince and Blanket to join her. Debbie has told her they would all be welcome, but there are certain laws which have to be obeyed and Paris knows that whilst she may be able to leave, it would be far more difficult for the boys due to the legalities.
"Debbie has called for talks between her, Paris and Katherine. She thinks they all need to sit down and discuss the situation to avoid any more rows and try to make any transition as easy for Paris as possible."
Do you have any insider gossip on your favourite stars? Taken a sneaky pic of a star? Send your photos, tip-offs and gossip to
spotted@ninemsn.com.au
.
Follow @TheFIXninemsnFollow Entertainment Editor @AmyNelmes
Check out this video of the Jackson family arguing! Yikes.