It was a girls' day out for the Holmes ladies as mum Katie, daughter Suri and Katie's mum Kathleen spent their weekend hanging out at a nail spa.
As a late birthday treat, the women took Suri, who celebrated her seventh birthday two days earlier, for a mani-pedi at i-Plaza Nail & Spa in New York City's trendy Tribeca area, People reports.
Suri was the epitome of a modern child, her iPad firlmly glued to her hand the entire time. According to People, technology spanned the generations as Katie and her mother reportedly texted and read on their phones during their treatments, with Suri sandwiched between them getting her own pedicure.
Following that, Suri got her nails painted, while Katie and Kathleen relaxed in the pedicure spa.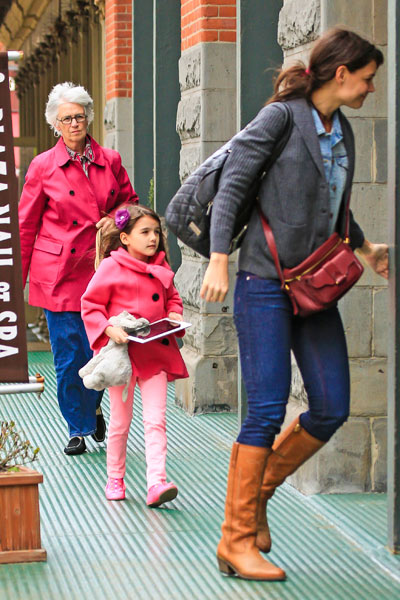 Suri Cruise holds her iPad with her teddy bear as she enters the nail salon with mum Katie Holmes and grandma Kathleen Holmes in New York City.
Image: Splash.
Most seven-year-olds would probably squirm when faced with sitting still for that long, but
Tom Cruise
's youngest knew the drill, sitting quietly in the chair as the nail technician worked away.
Perhaps it's all that Scientology obedience training rearing its well-coiffed head? Suri sounds like a boring rich girl to us.
The only sign of normalcy that she showed was at the end of her manicure when she proudly showed Katie her nails and said, "Look mommy!" to which Holmes responded, "It's so pretty", reported the magazine.
Find out more about Suri and other celebrity offspring in our celebrity kids spoilt rotten slideshow.