Uh oh! Is this the reason Chris Brown stopped following her on Twitter?
Rihanna got up close and personal with one of her fans on the weekend – even sharing a sneaky kiss!
Justin LaBoy tweeted three different photos of him and the 'Diamonds' singer together in a New York club. And by the looks of it, things were getting pretty cosy.
Kissing each other on the cheek, the pair looked more like a loved up new couple than an artist and fan. Justin even referred to Rihanna as his "wife" in one of the captions! Umm… something you're not telling us RiRi?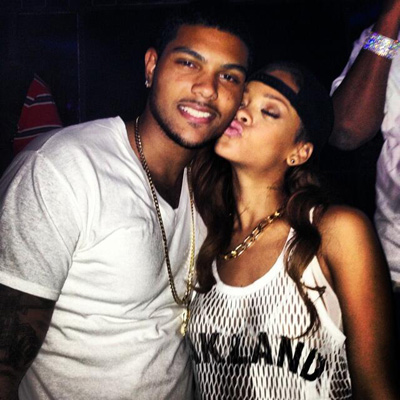 A picture tells a thousand words: Did Rihanna and Justin hook up?
Image: Instagram / @justinlaboy12
The 25-year-old pop star might have some explaining to do with on-again-off-again boyfriend Chris Brown. But then again, its Rihanna, she doesn't have to explain herself to anyone. Hashtag Unapologetic.
Her long time troubled beau tweeted some pretty glum messages earlier this week such as, "S**t is overrated now a days," and "Just remember to keep ya muthaf****n head up."
Could we finally be getting to the bottom of Chris un-following RiRi on Twitter? We think so.
Who would you prefer to see Rihanna with? Have your say below.