A hair-pocalypse has gripped Hollywood in the past few hours, and left some shining stars and coiffed casualties in its wake.
The biggest names in the biz got experimental with their hairstyles for the über-exclusive 2013 Met Gala at the Metropolitan Museum of Art in New York.
Celebs embraced the "PUNK: Chaos to Couture" theme, Anne Hathaway making the biggest impact with a sexy new platinum-blonde 'do. It's a refreshing graduation from goody-two-shoes to classic Hollywood ice queen for the Oscar winner. Not to mention that insane see-through Valentino dress! Why did she play it so safe during the awards season?
Miley Cyrus's look was not as successful. The put-my-finger-in-a-power-socket hair is cray-cray in a bad way. Feel like a pineapple, anyone?
Nicole Richie opted for white hair, with husband Joel Madden tweeting: "Damn Nicole you look good". Who knew Joel was into cougars?
Speaking of cougars, Madonna strutted the red carpet in a black wig, a bum-revealing tartan mini and raunchy suspenders. You be the judge.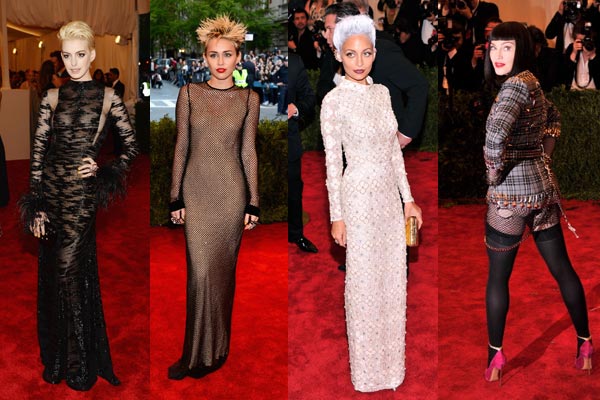 Anne, Miley, Nicole, Madonna at the Met Gala. Images: Getty.

Other divas pushing the boundaries include Beyoncé, Katy Perry, Jennifer Lopez, Miranda Kerr, Gwyneth Paltrow, Taylor Swift, Kim Kardashian, Kristen Stewart, Jennifer Lawrence, Kylie Minogue, Nicki Minaj and Katie Holmes.
Check out all the hottest and craziest fashion from the Met Ball 2013: