Nearly two-year-old Harper Beckham scored the one thing millions of David Beckham admirers would die for: a kiss!
Daddy's girl was caught on the KissCam big screen snuggling up to papa at a hockey game in LA. David, never one to shy away from attention, smacked a kiss on his super-cute toddler … and made us fall in love with him all over again. Harper can't stop smiling — watch above!
It's not the first time the Beckhams have ended up on KissCam. Watch Posh and Becks go in for an awkward smooch last year:
At the latest match, Harper seemed to make an impression on dad's BFF Tom Cruise, who sat with the whole Beckham clan and his own son Connor at the Los Angeles Kings v San Jose Sharks game. By the looks of the pics below, Harper showed Tom who's really top gun:

Isn't she just the cutest? Even Tom thinks so! That pout is learnt from mum, we say. Note the dude falling asleep front of the famous Beckhams. Winning! Image: Getty.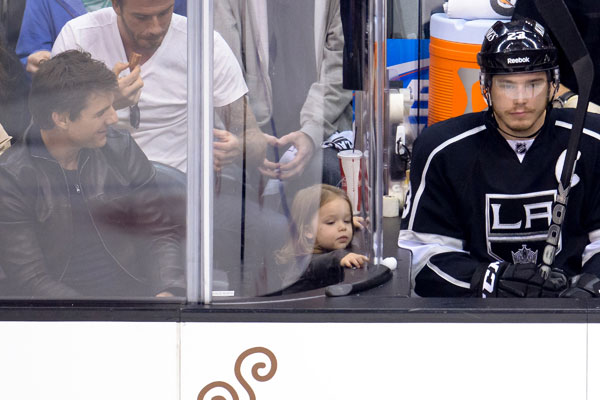 Suri! Whoops, wrong child ... Harper! Image: Getty.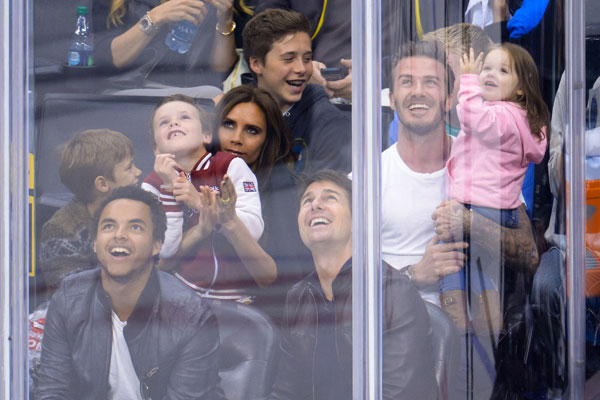 Is that a smile we see, Posh? The Beckham-Cruise clan left to right: Romeo Beckham, Connor Cruise, Cruz Beckham, Victoria Beckham, Brooklyn Beckham, Tom Cruise, David Beckham and Harper Beckham. Image: Getty.

In pics: Most spoiled celeb babies